The Basel Show 2008
by Jocke
As usual we start early in the morning when we do this trip.
04:00 the clock says.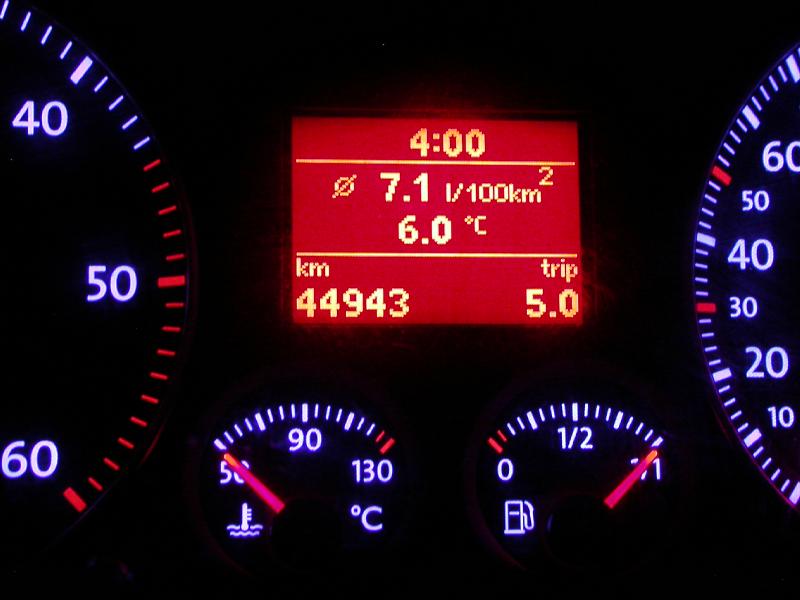 The weater in Sweden looks ok.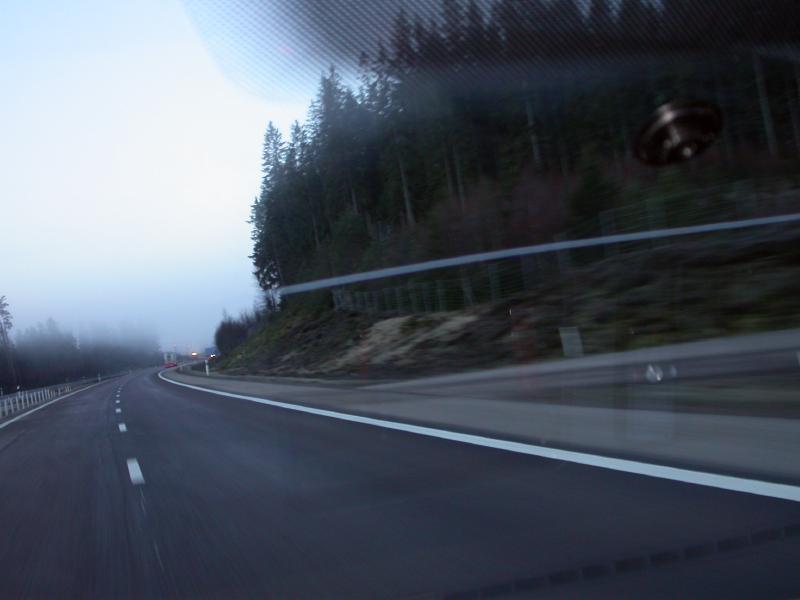 So we leave for Denmark.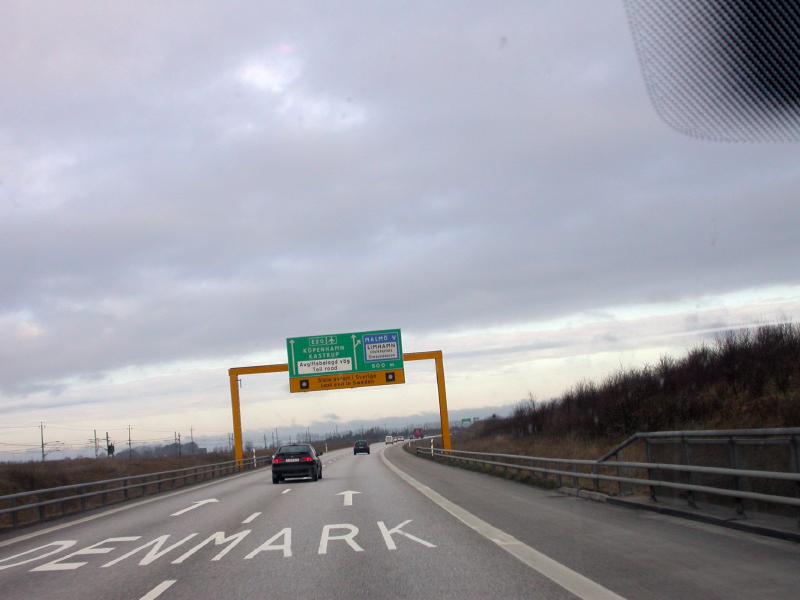 Copenhagen here we come, Bo watch out.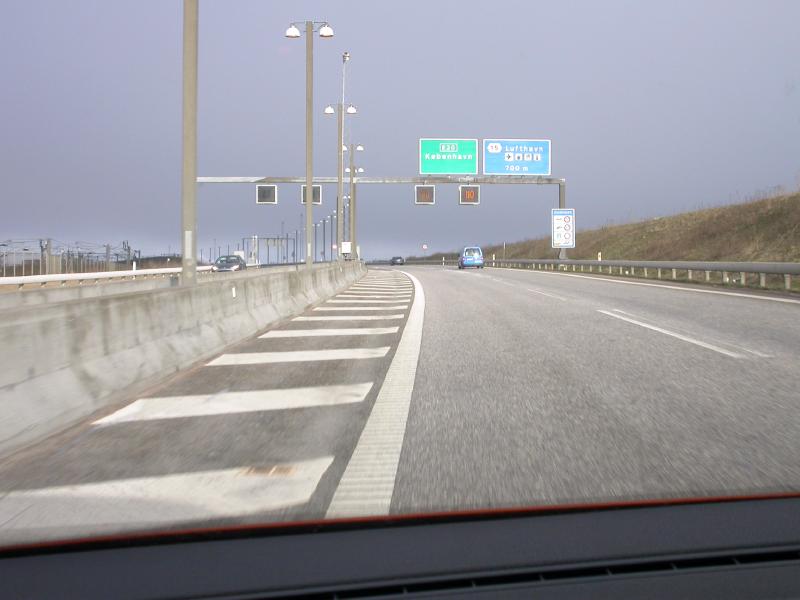 Then we hit the ferry to Germany in a eyeblink.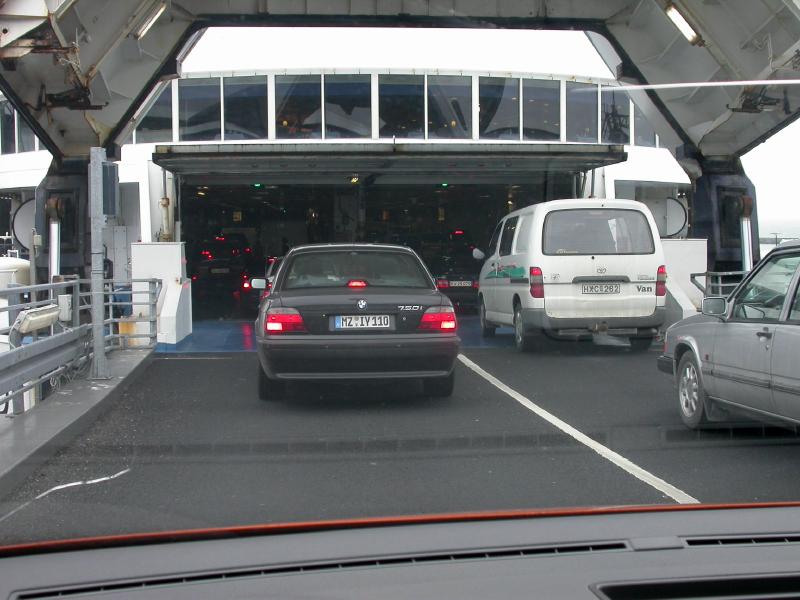 Here we go.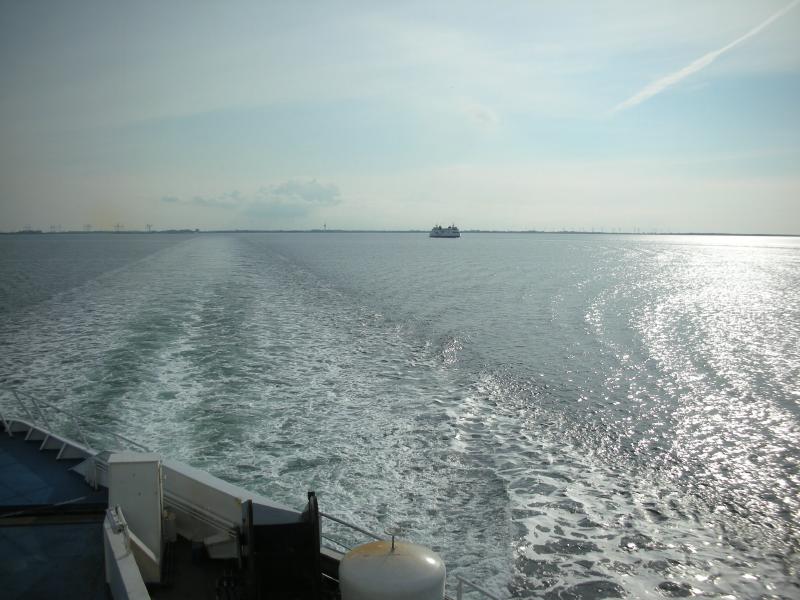 Tony start the trip hunting for some cheap watches at the ferry.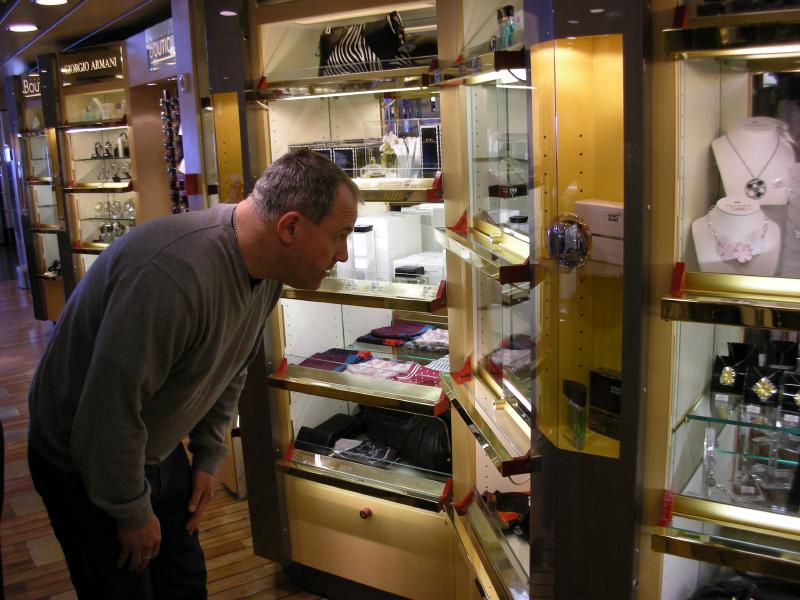 But he only got this one.
That will be fine, now I will get some peace in the car when he fall in sleep. :-))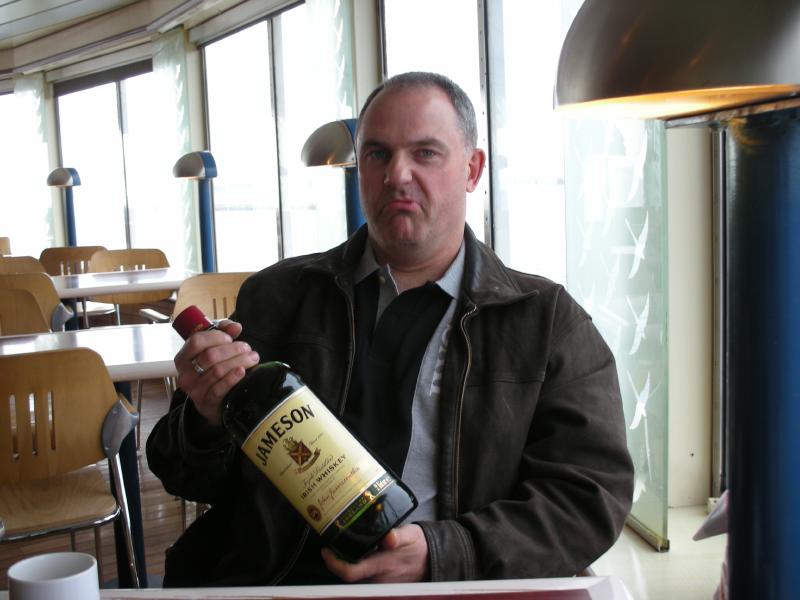 It start raining and my window has crack.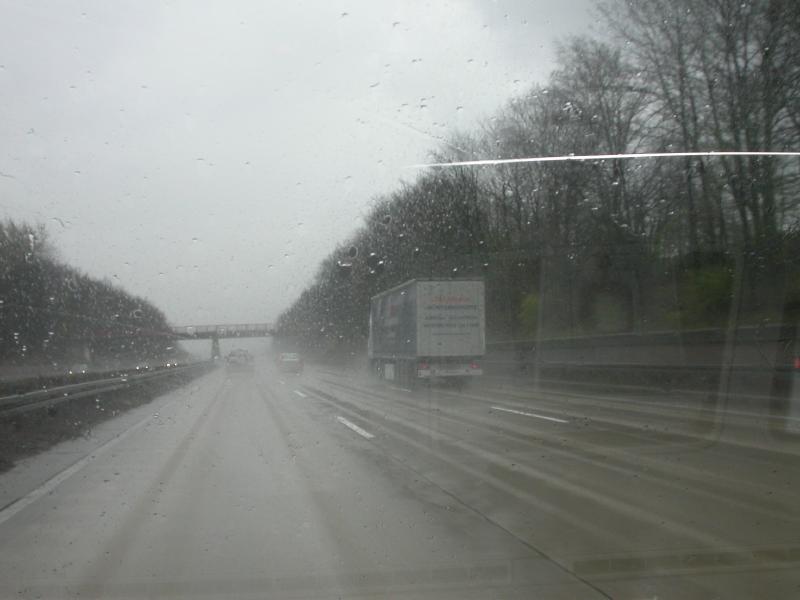 A few hours later the weather is fine and Tony still stand up after the whiskey.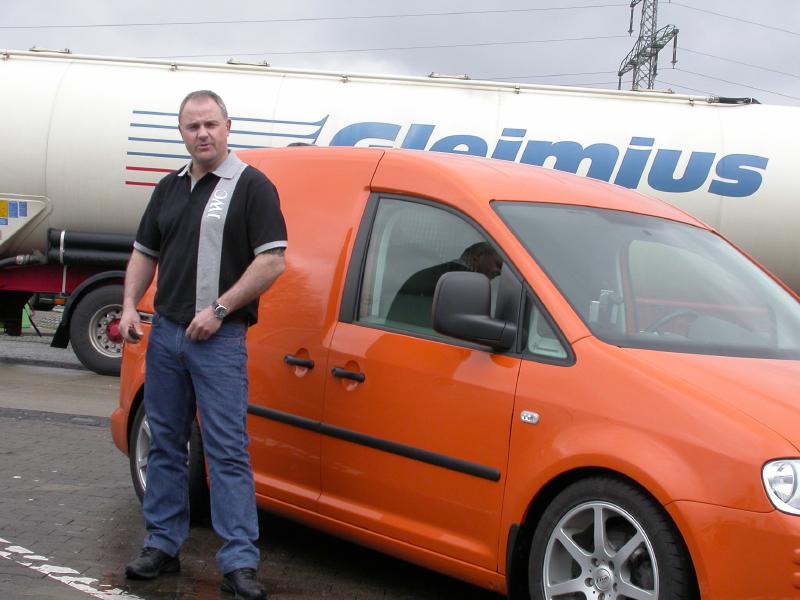 Now the Basel sign is there, then we are close.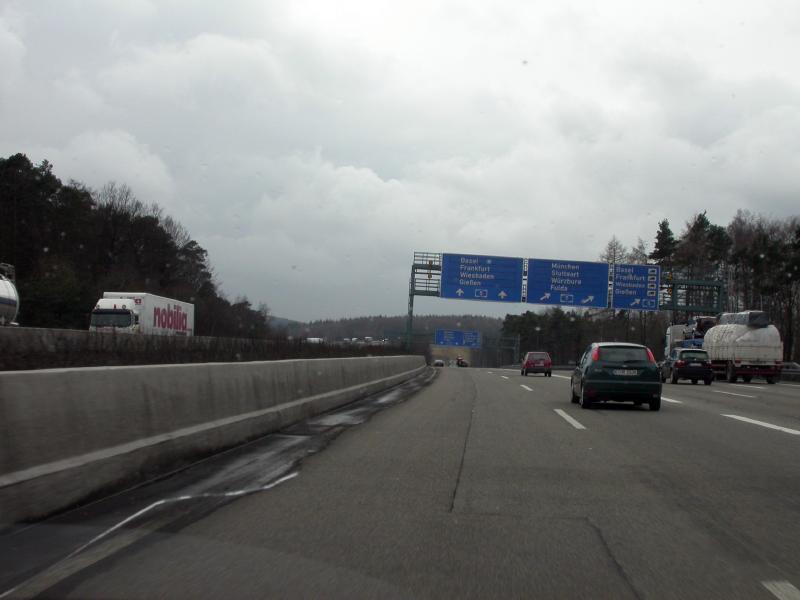 Could it be better? A great landscape view and a reflecting Panomaticlunar.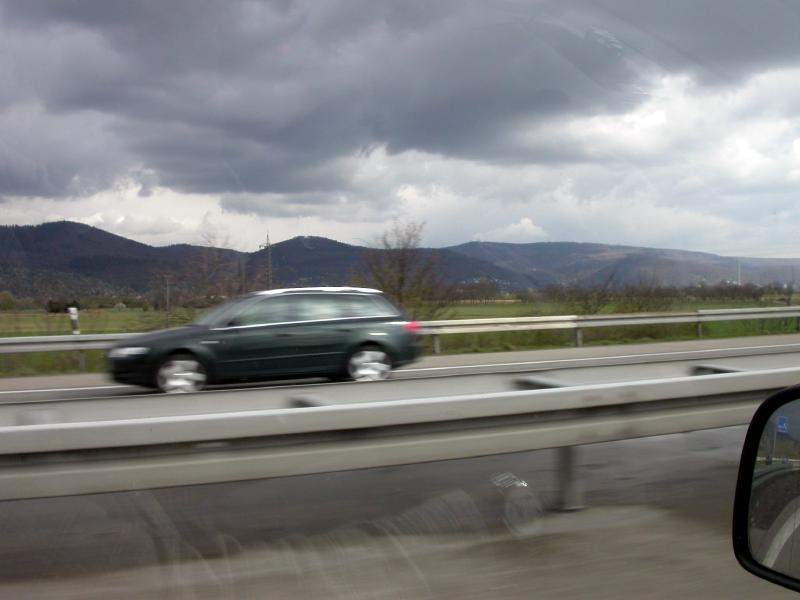 Now we are real close.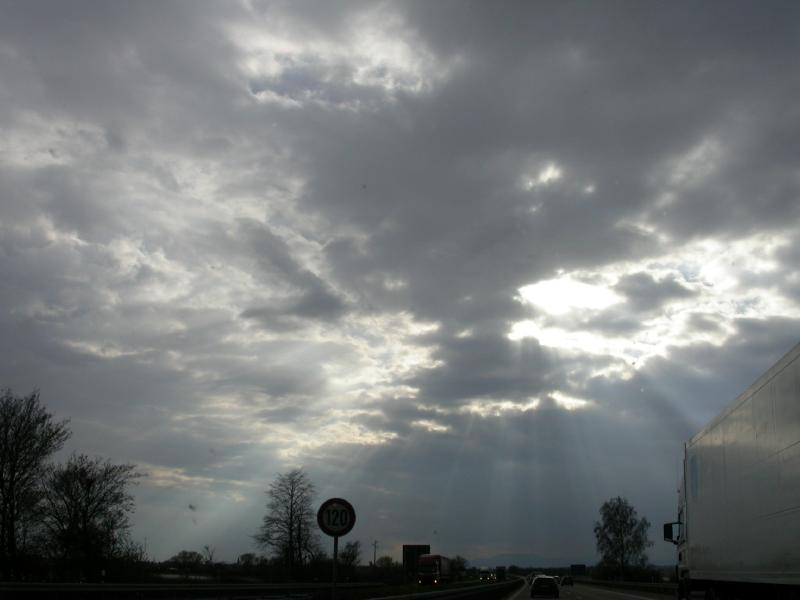 And now we have reach the hotel. 18:19, not bad.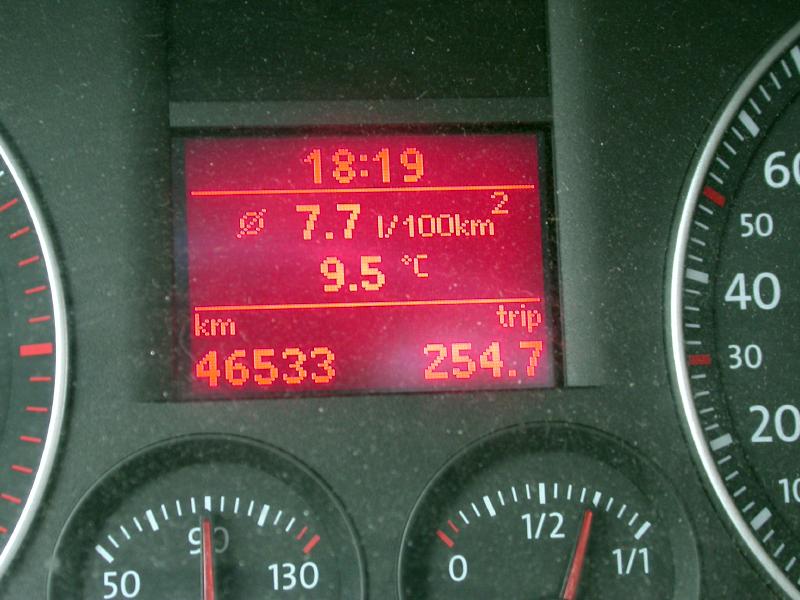 So it says:
Total middle speed: 121 km/h
Middle speed 125 km/h
Maximum speed 191 km/h (bad weather, 193 km/h last year)
Total time 13:07 hours
Total drive time 12:39 hours
Rest 27:03 minutes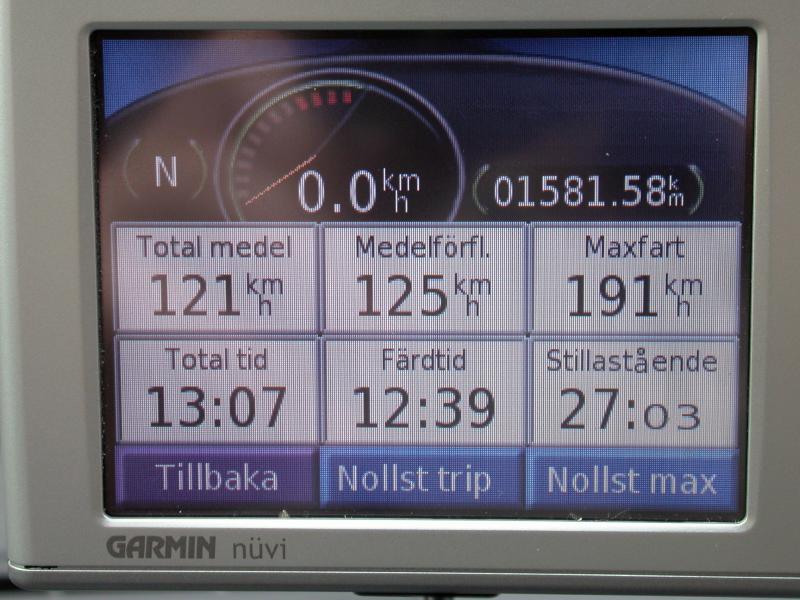 So when we have checked in at the hotel we have to get something to eat.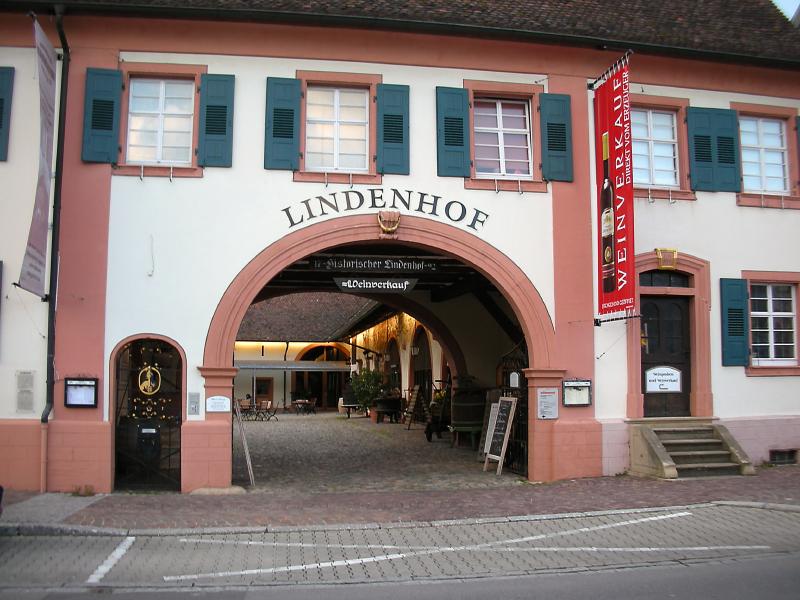 So we get in here and I can tell you my english is not good but the waiter at this
place will make me feel like a expert. :-))
We was get a beer and a schnitzel and we say itīs enough with one beer because
we need some rest after the trip. So when we where finish I call the waiter and tell
I want the bill. 2 minutes later she come with a beer.?????
Ok I say to Tony, we split it and I will try again.
So I call her again and say: Can I pay?
Yes she say and run away.
After I have thinking about it I told Tony, what shall we do if she come back with a pie? :-))
But she come with the bill so now we can go to bed.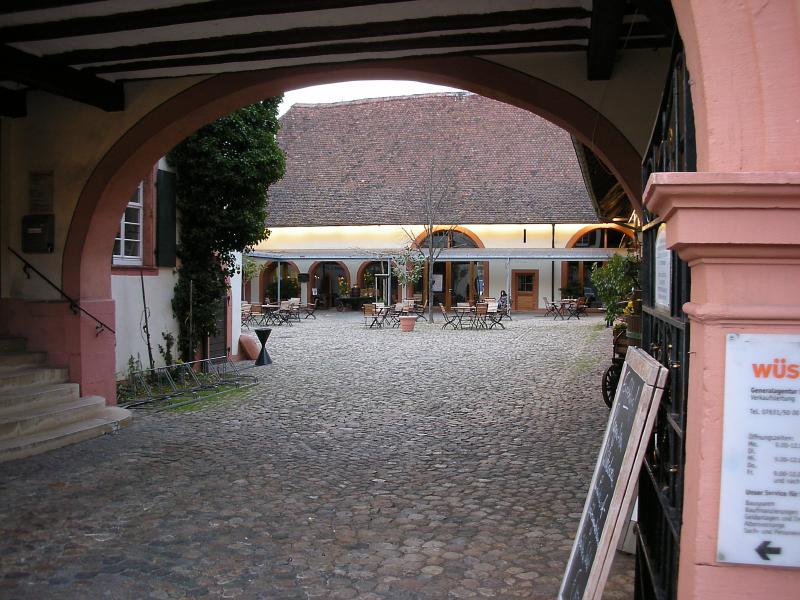 So next day we went down to the place.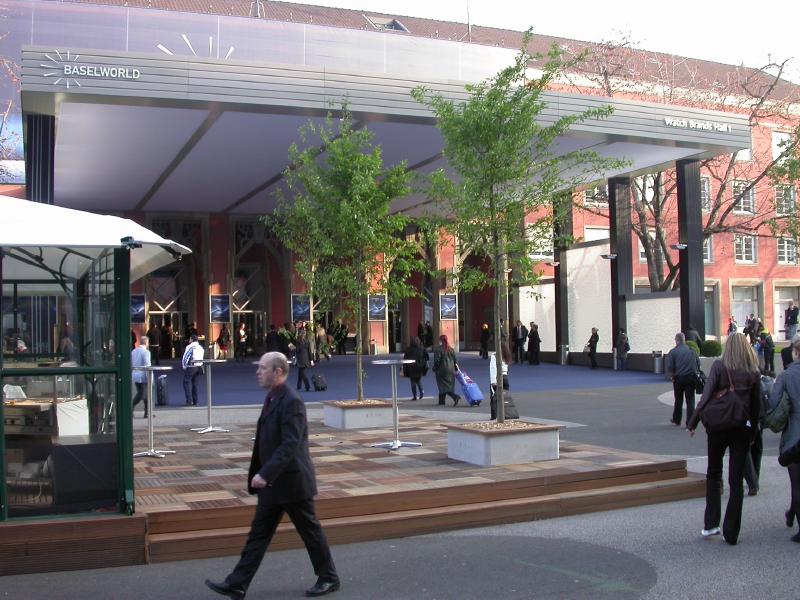 Sorry, I have no chance to adjust the hands, but at least the secondhand is correct.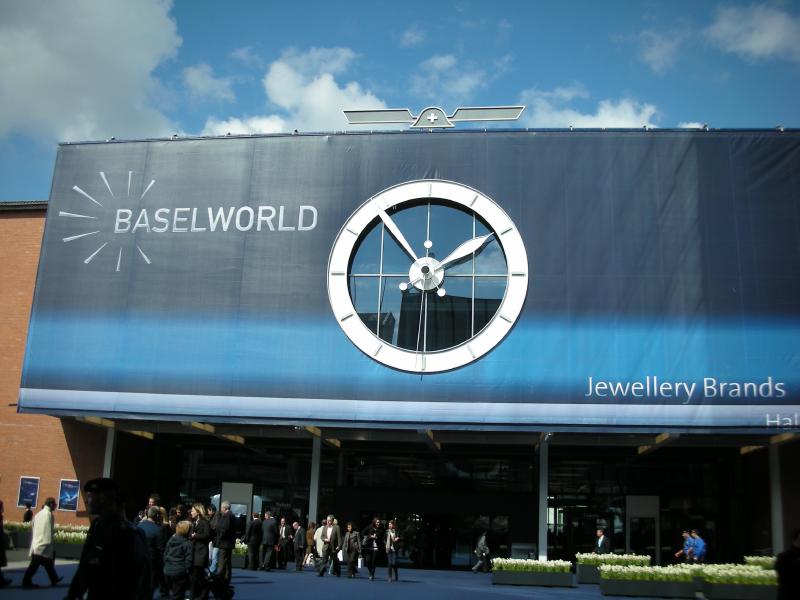 Yes, we are bak and the people is that too.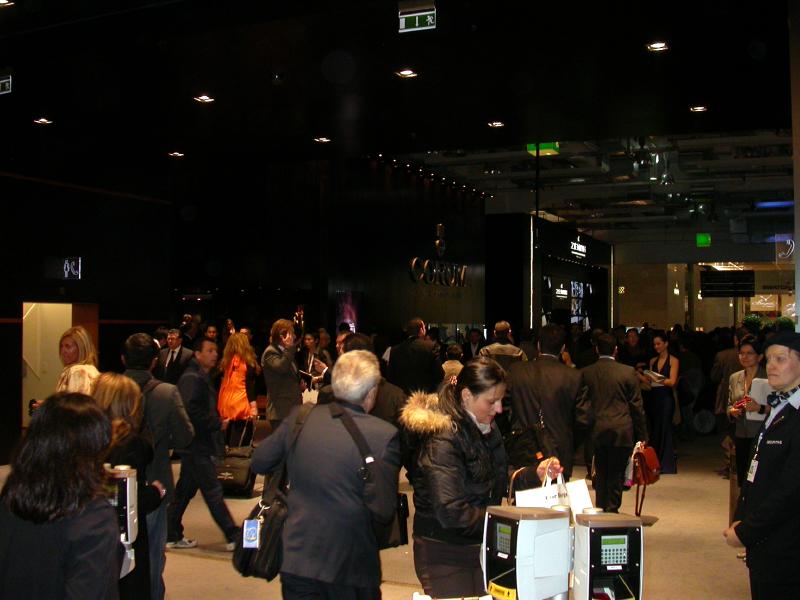 No we are inside.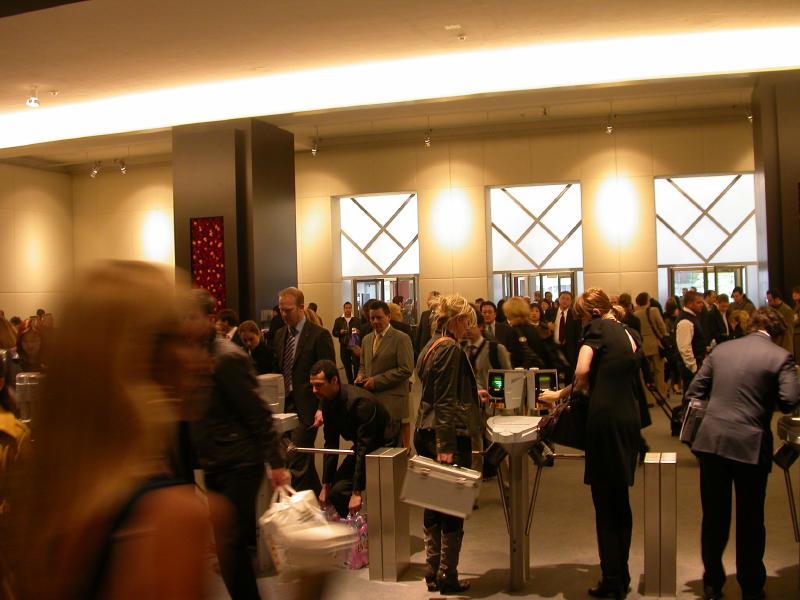 So I run down and get some pics of the Rolex guards so I know how they looks. :-))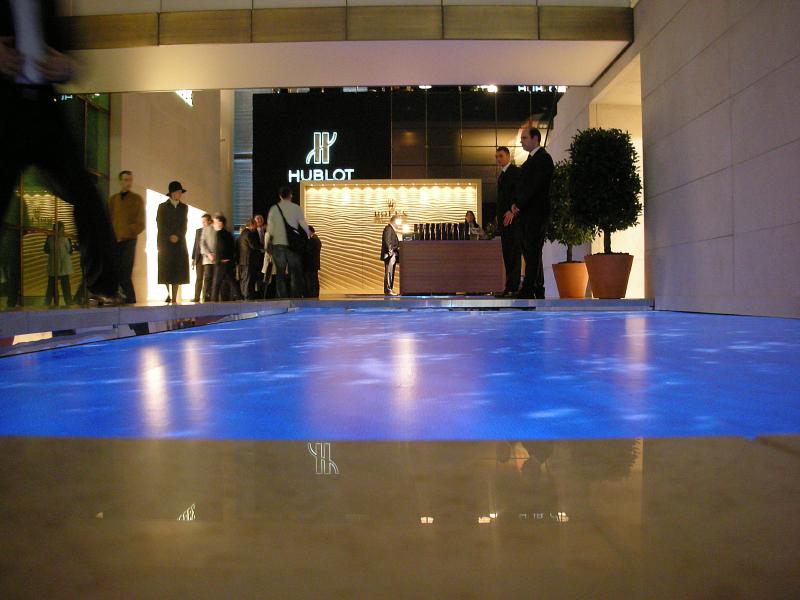 Then I start shooting a few ones.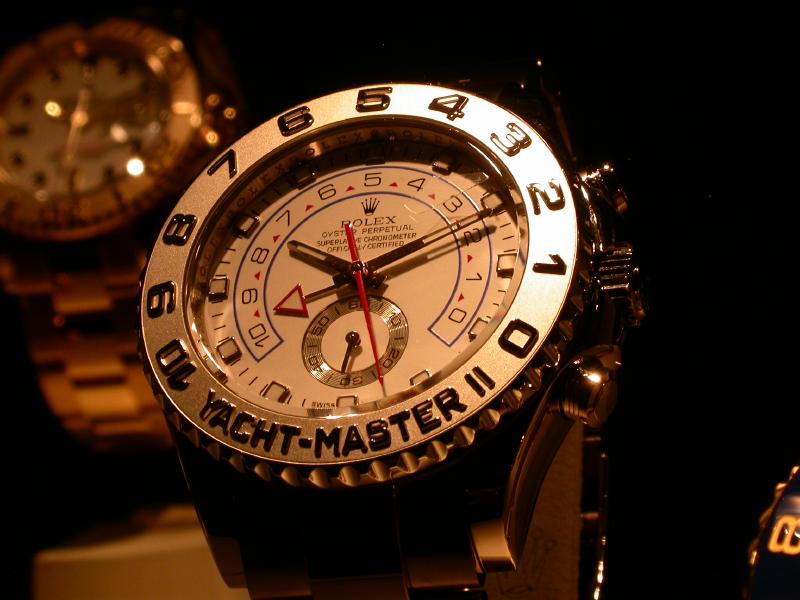 The new bastard, Sea Dweller Deepsea. Not my cup of tea. :-((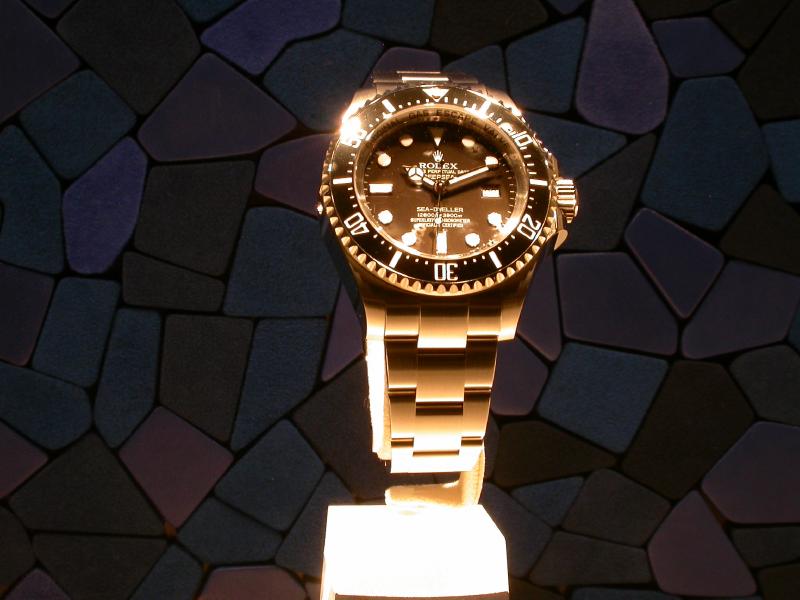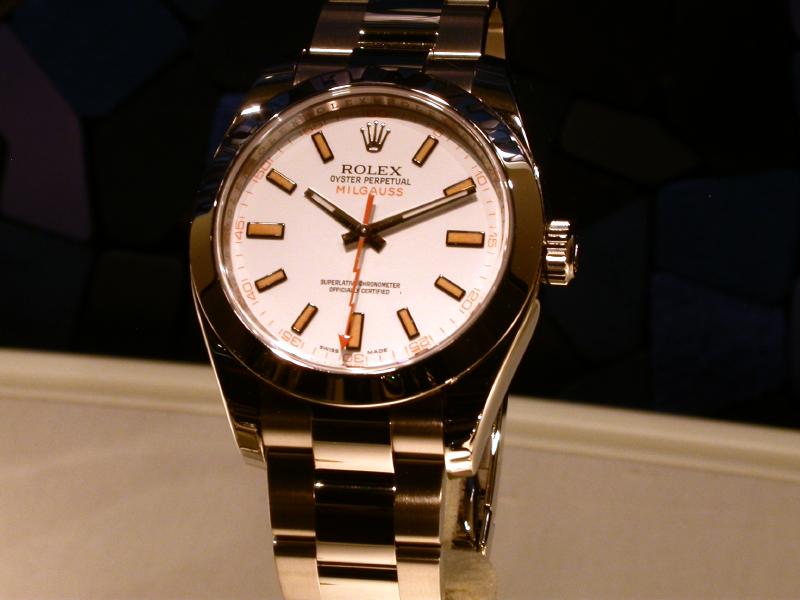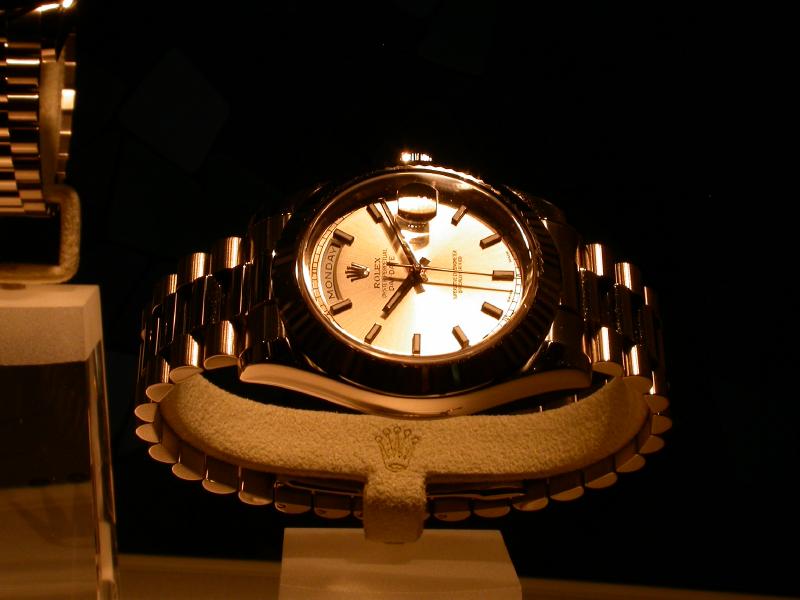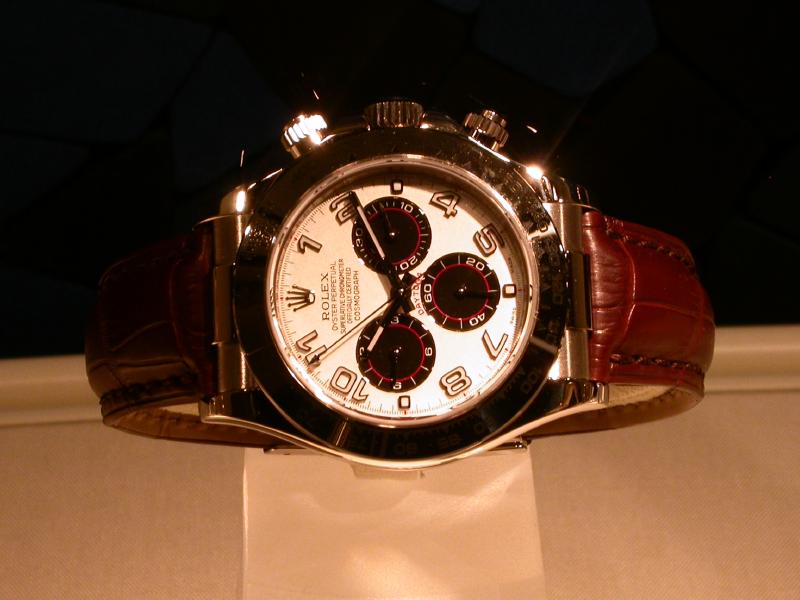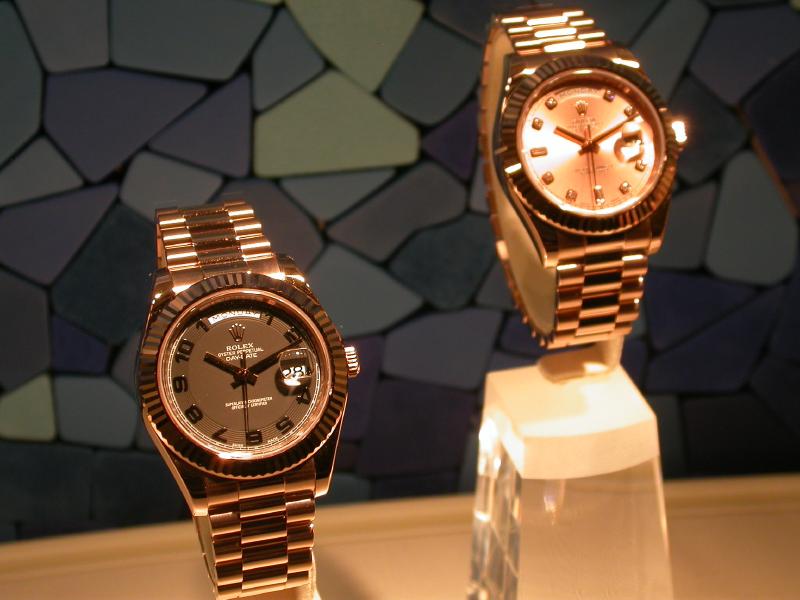 And the Canal Street Blue WG Submariner.
Before the designers was old farts at Rolex, now it looks like the new ones comes
from kindergarten. I have never seen a Rolex that looks more fake than this one.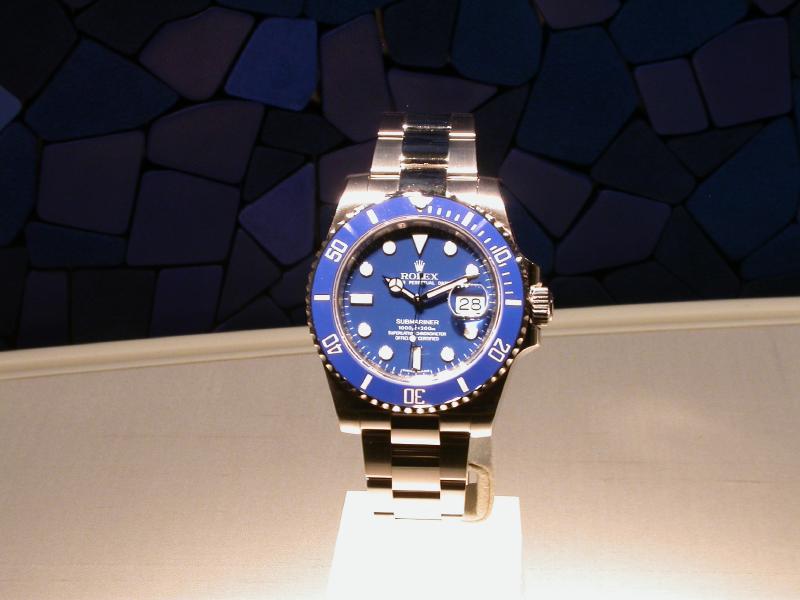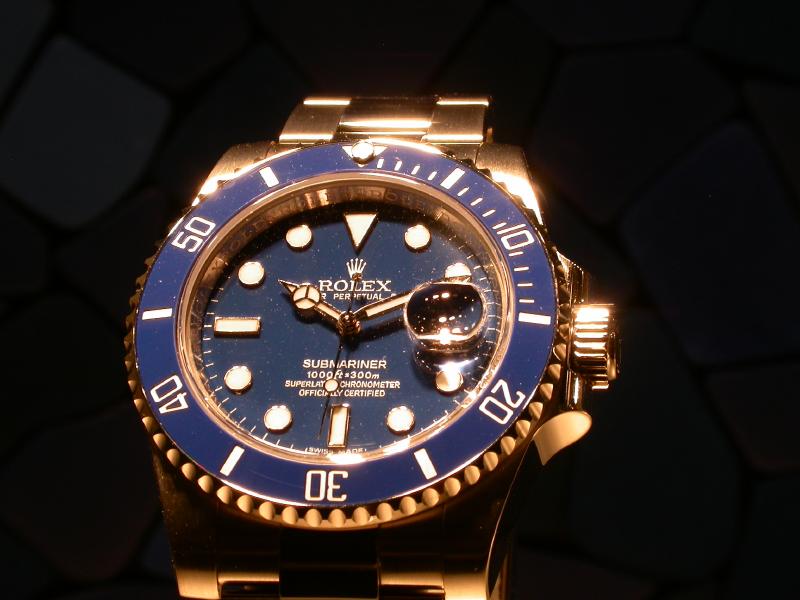 In my opinion the new DayDate shold have a bigger dial and a not that wide bezel.
It looks really wrong.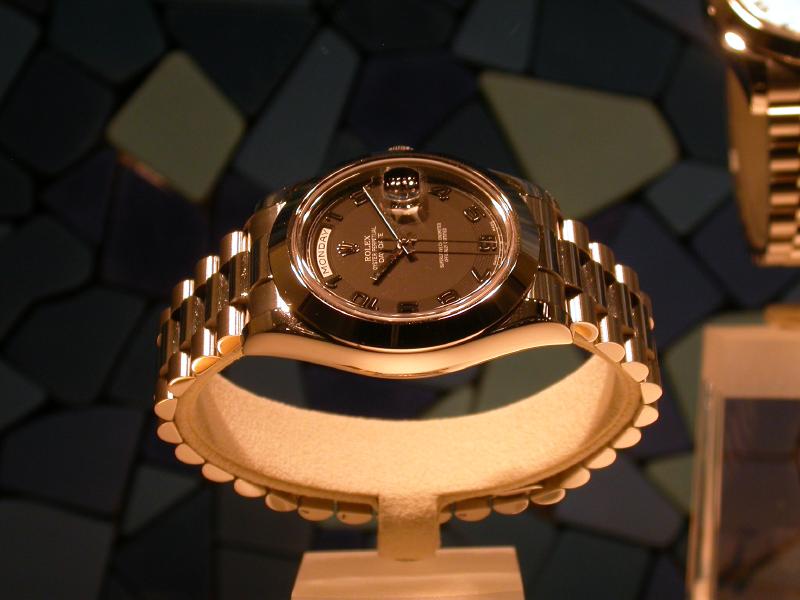 Ok I take a new leap with a better camera.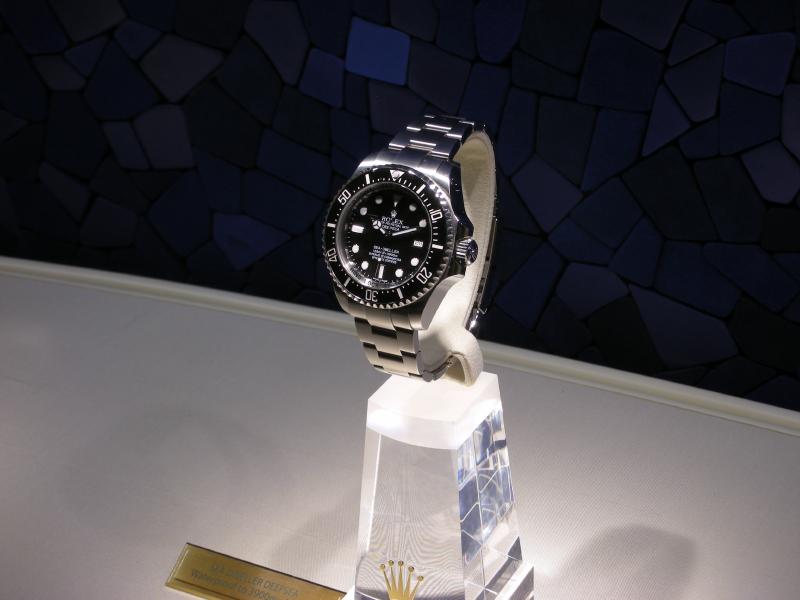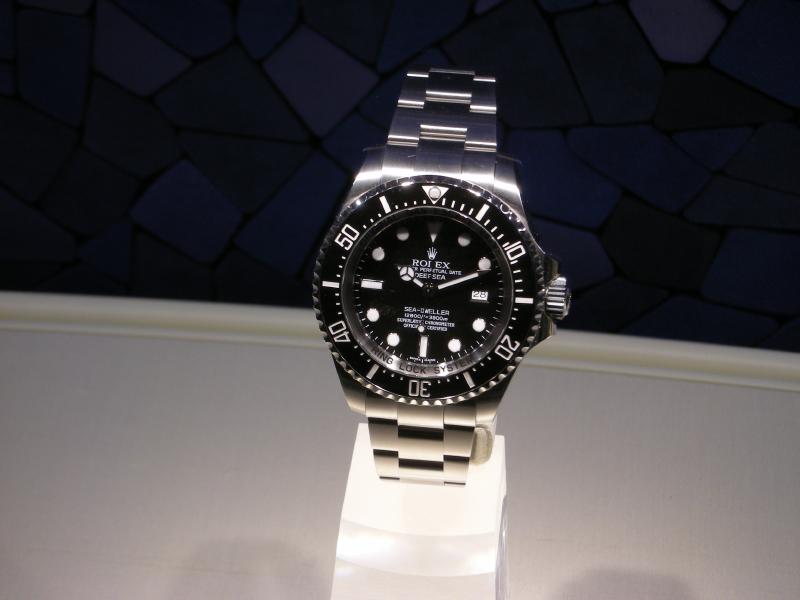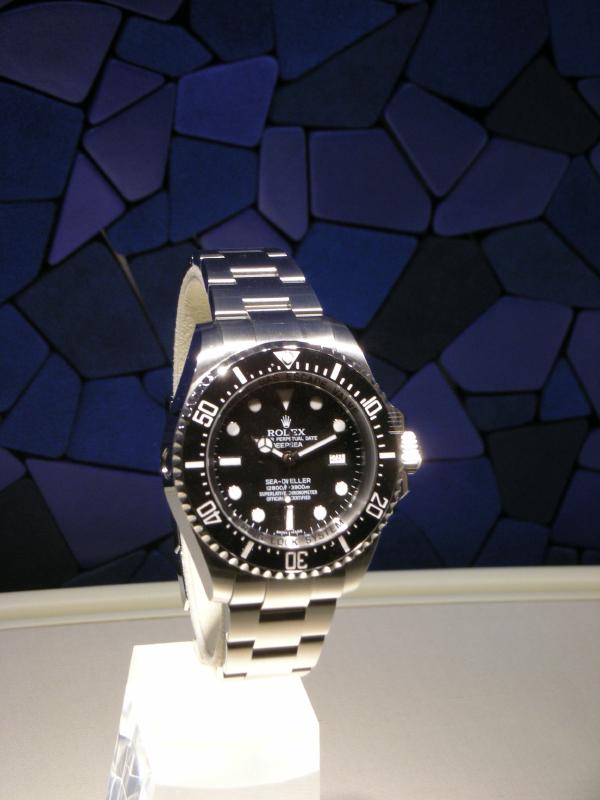 At least they could clean up the watch before they show it.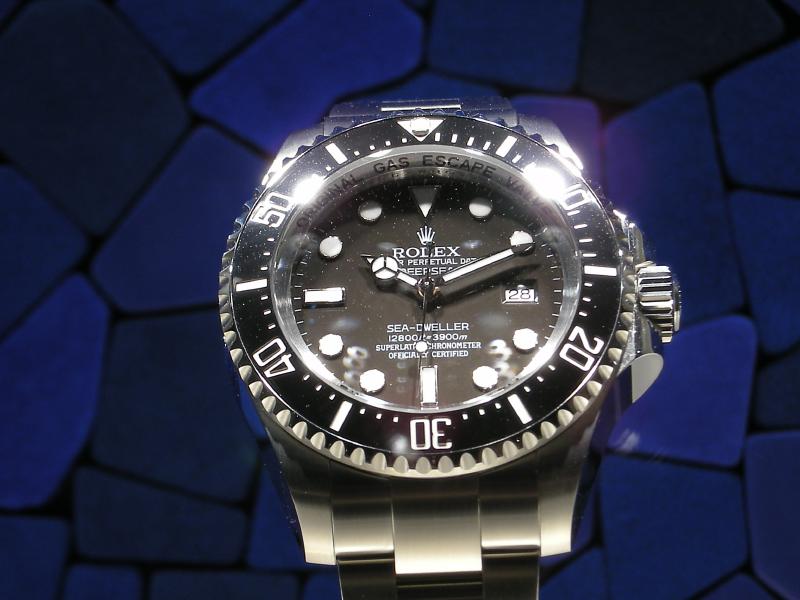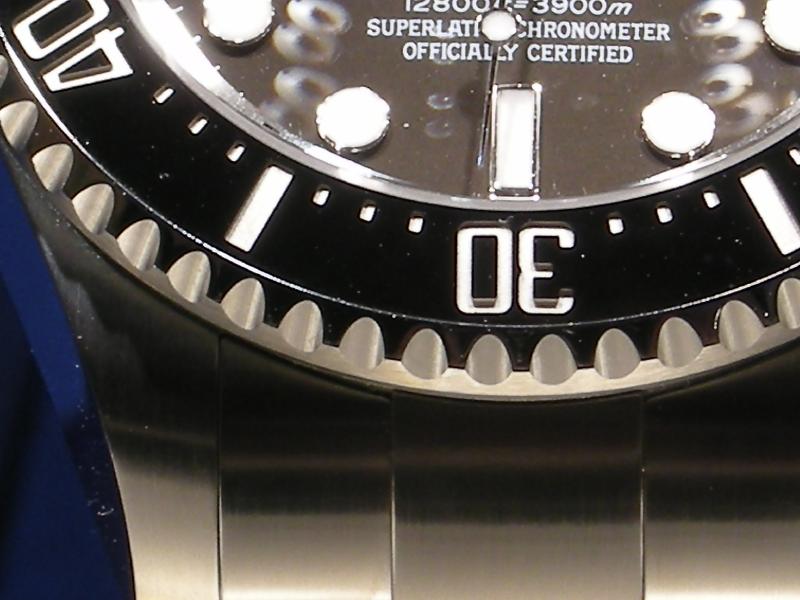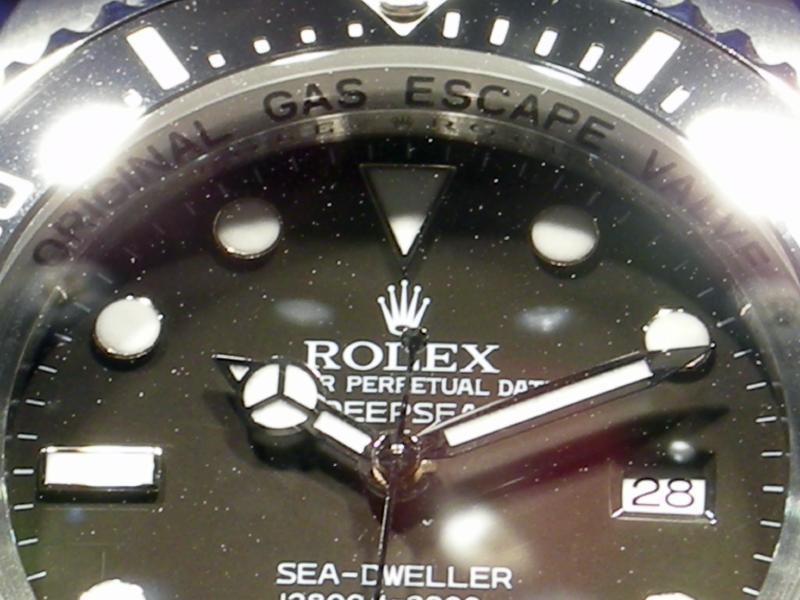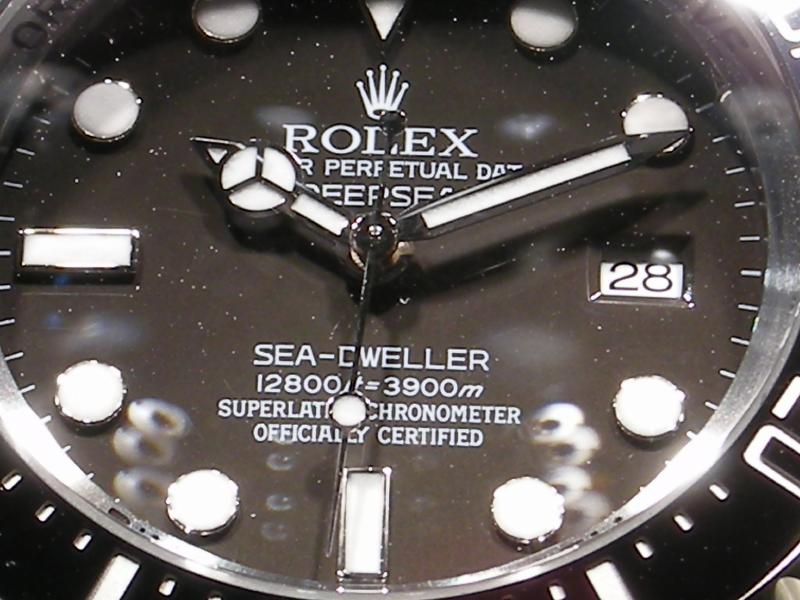 Sorry, I canīt stand it.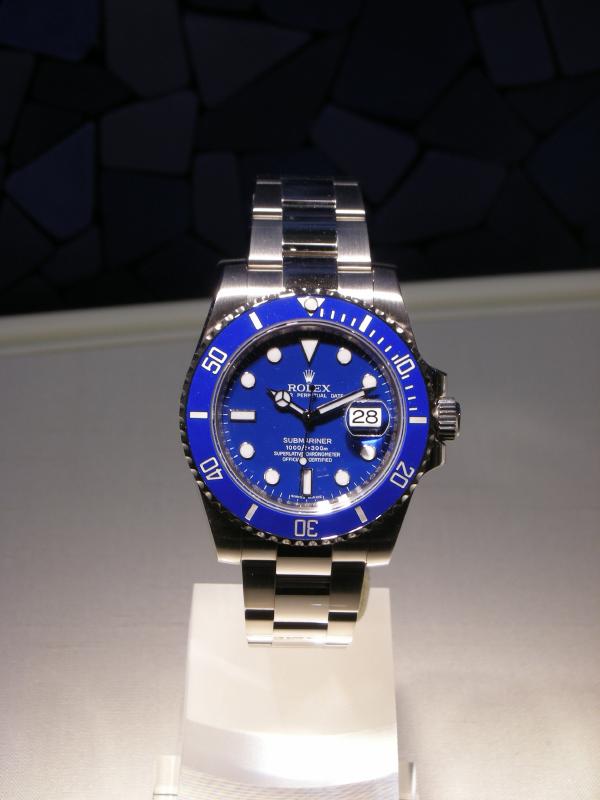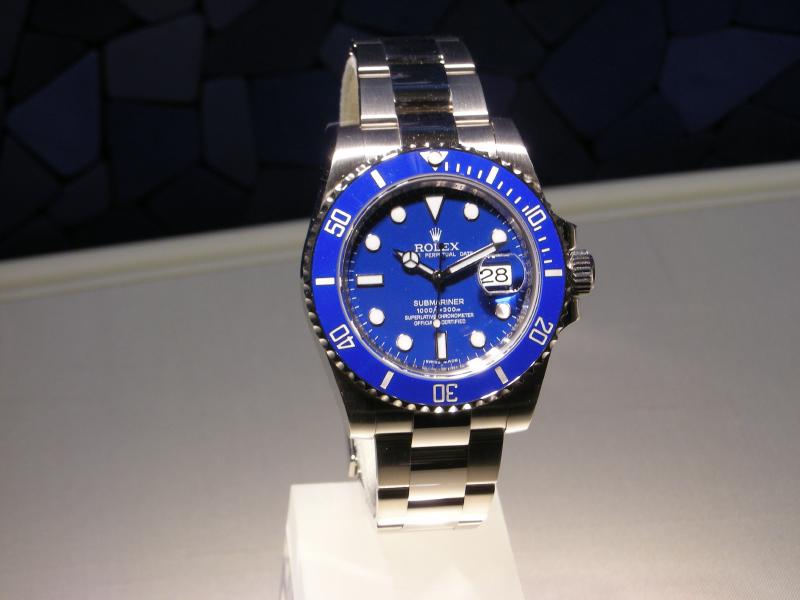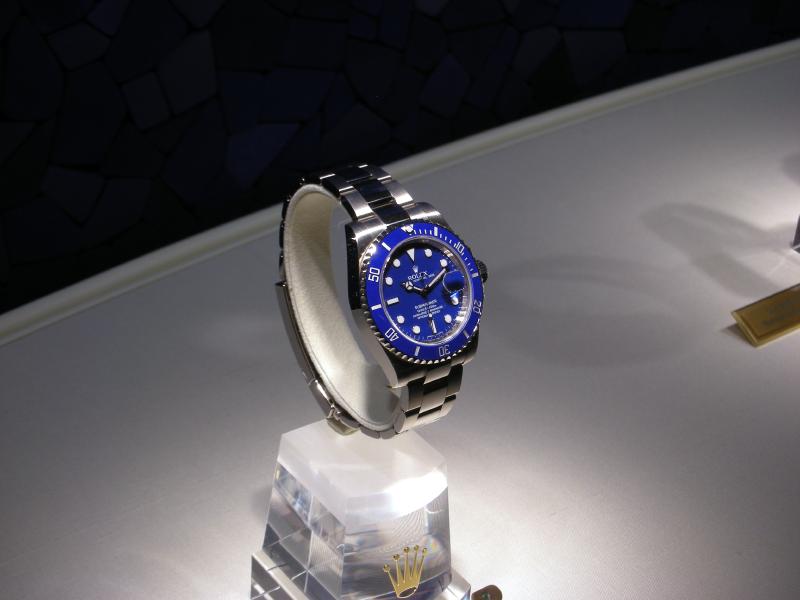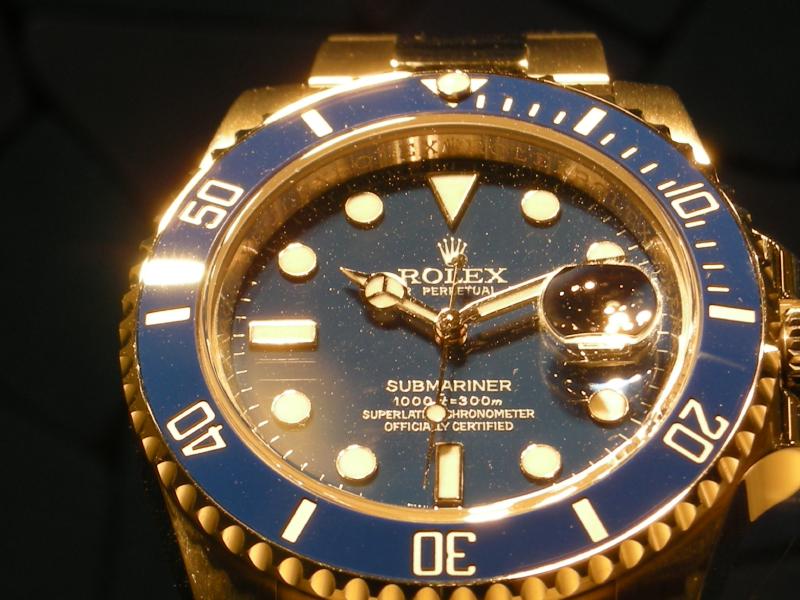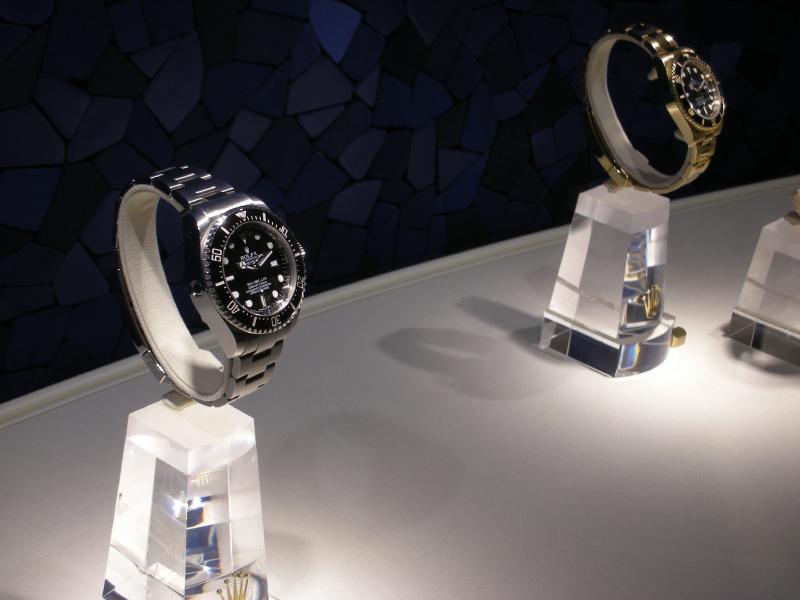 Rolex is like new cars, it takes a few years before you like them.
Today The Clownmaster arenīt that bad.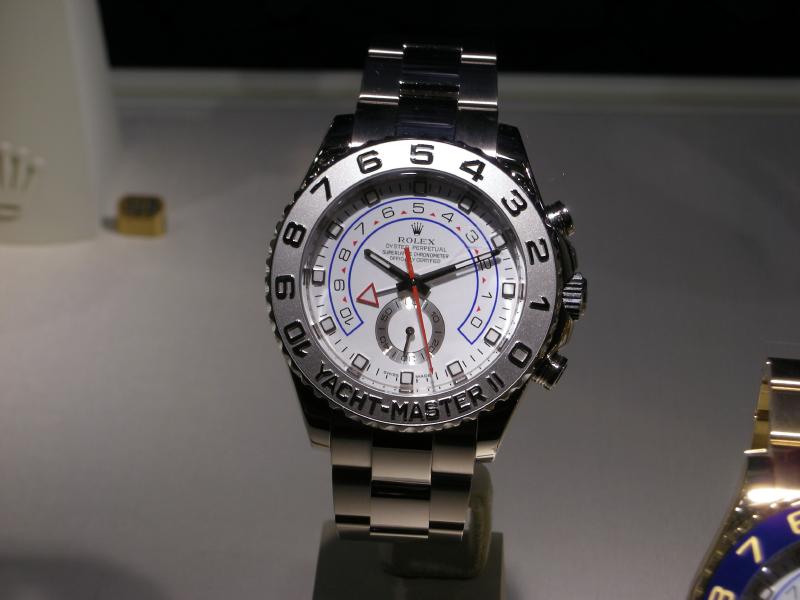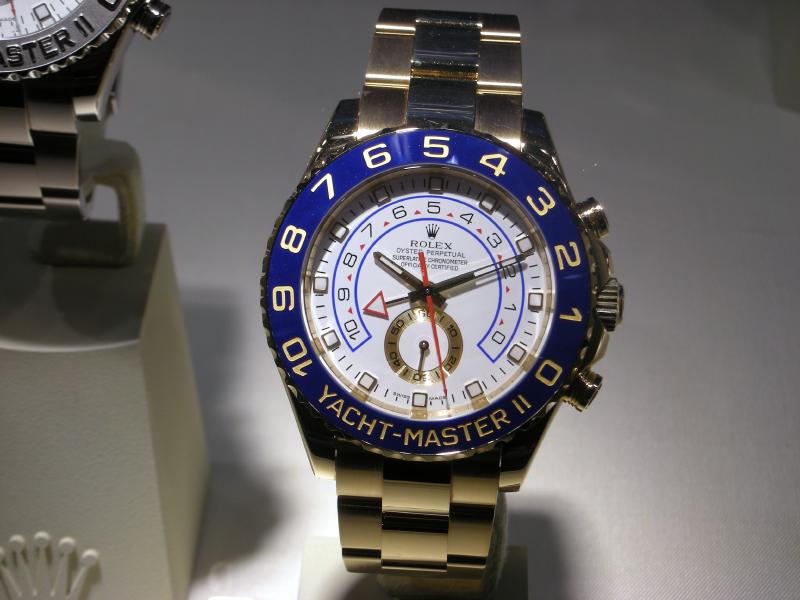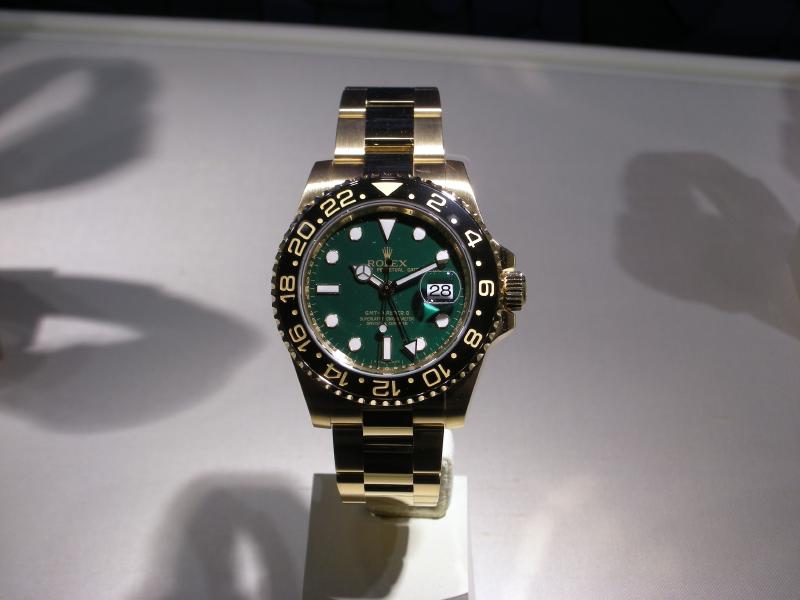 Some new dials.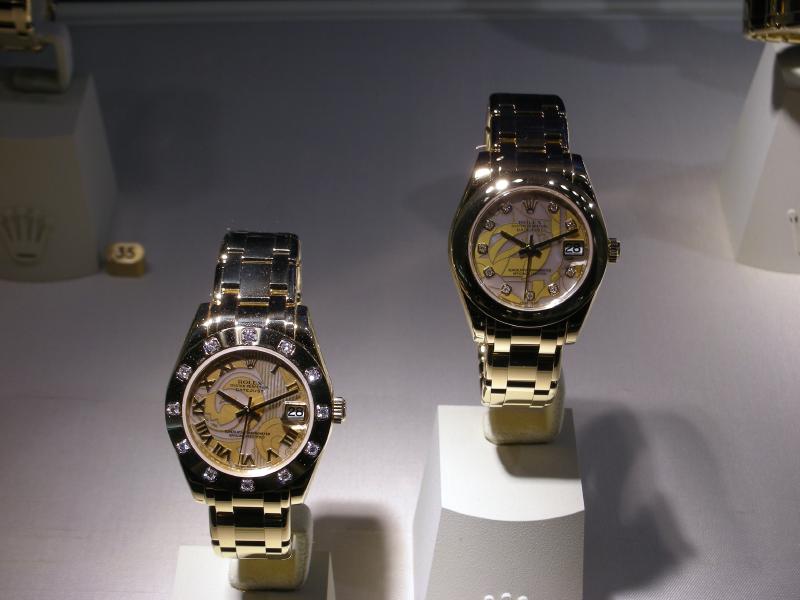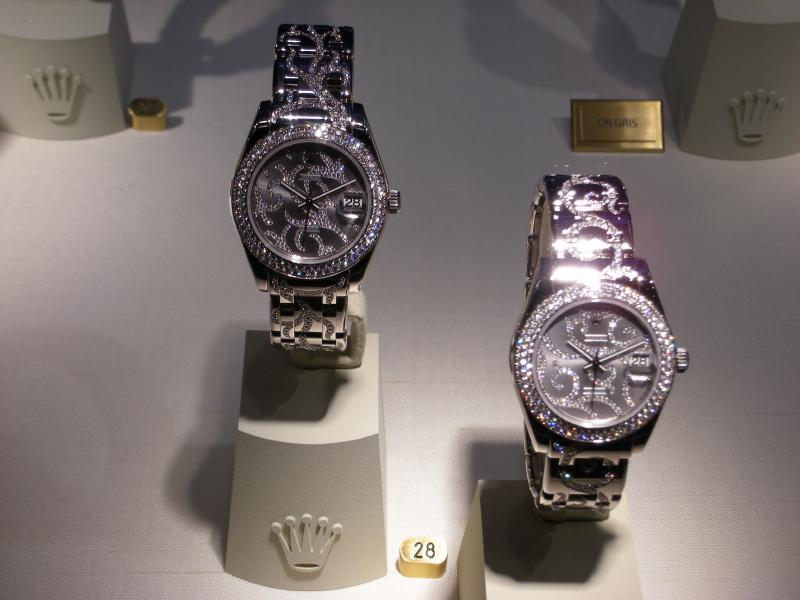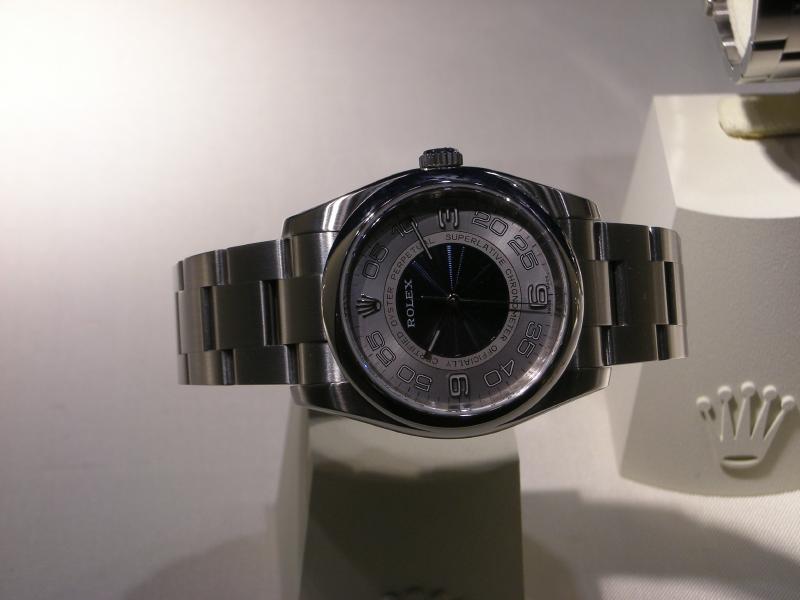 Yes, the green one is still there. The regular Sea Dweller too.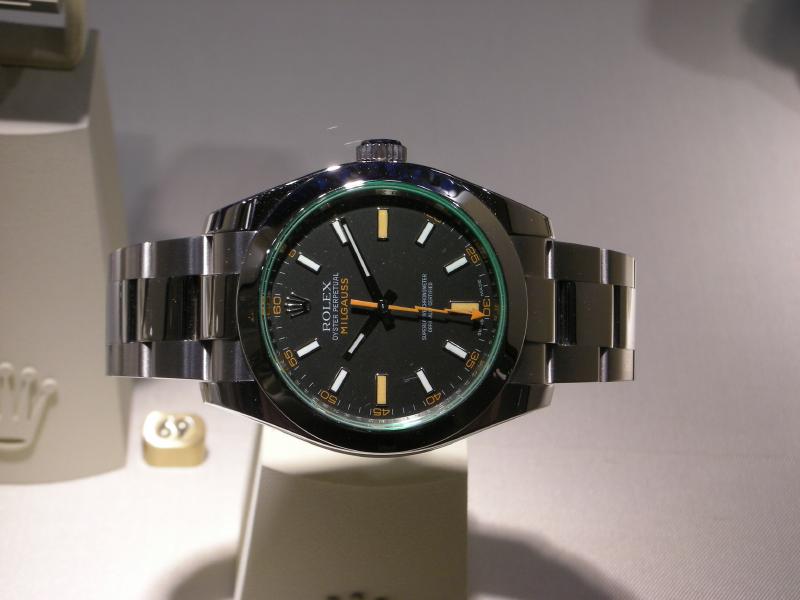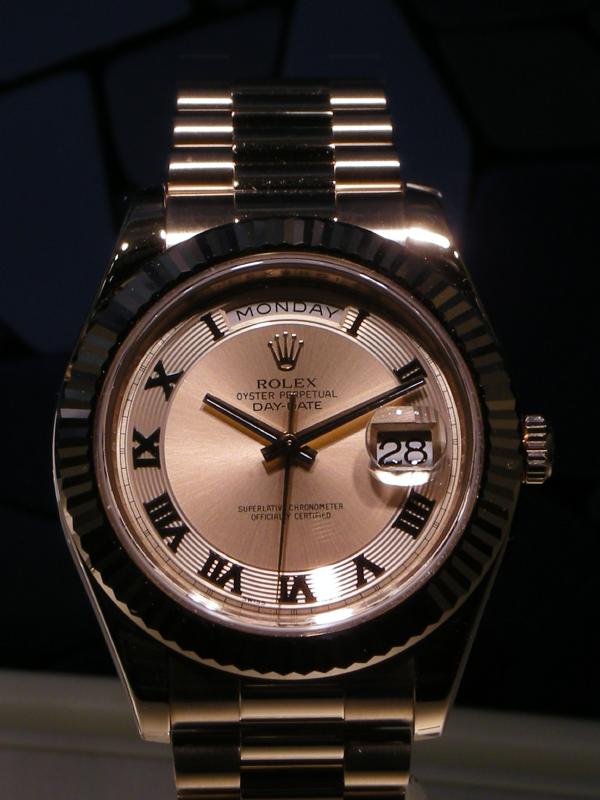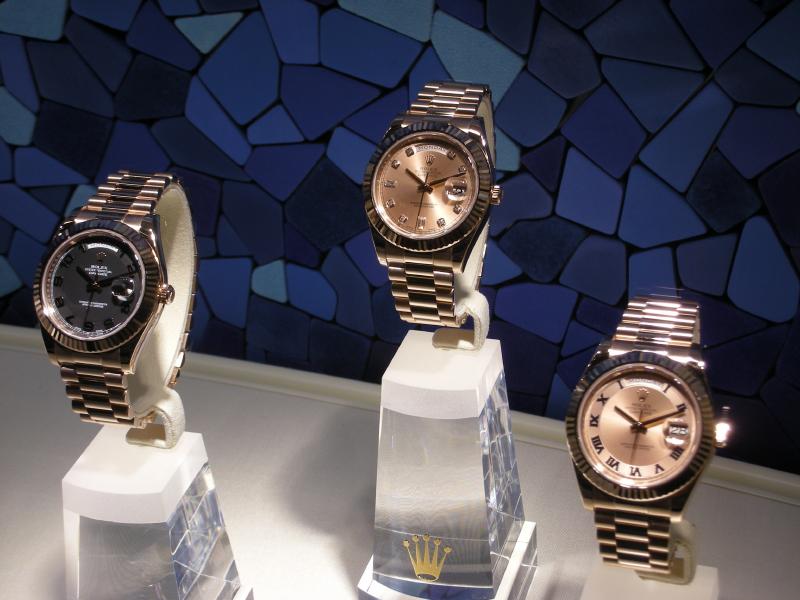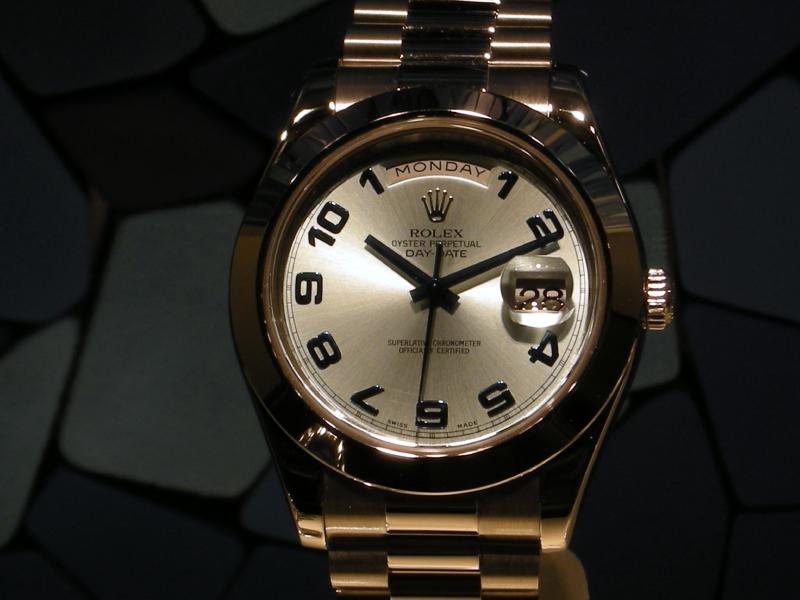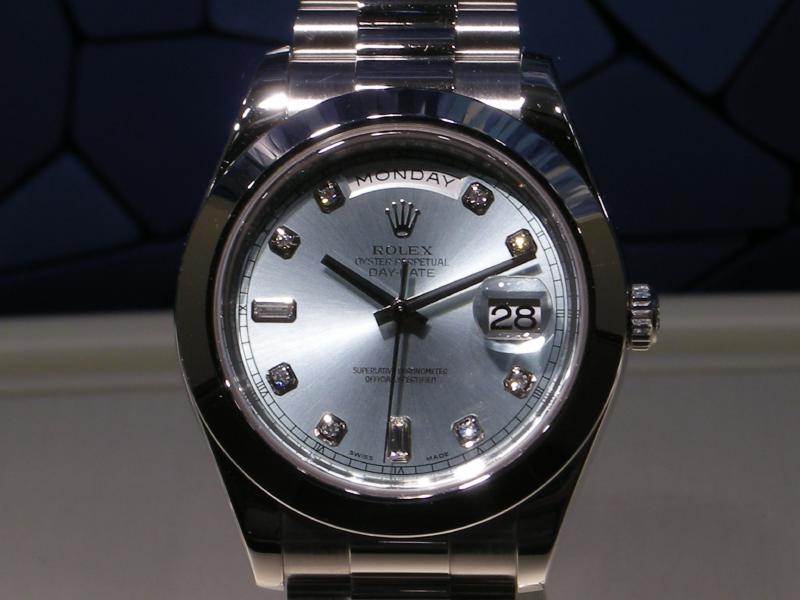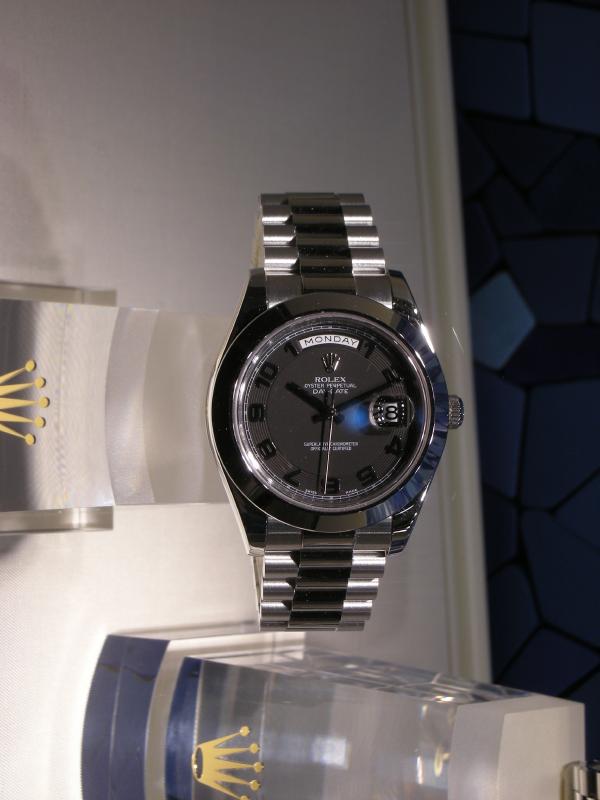 A few Tudors too.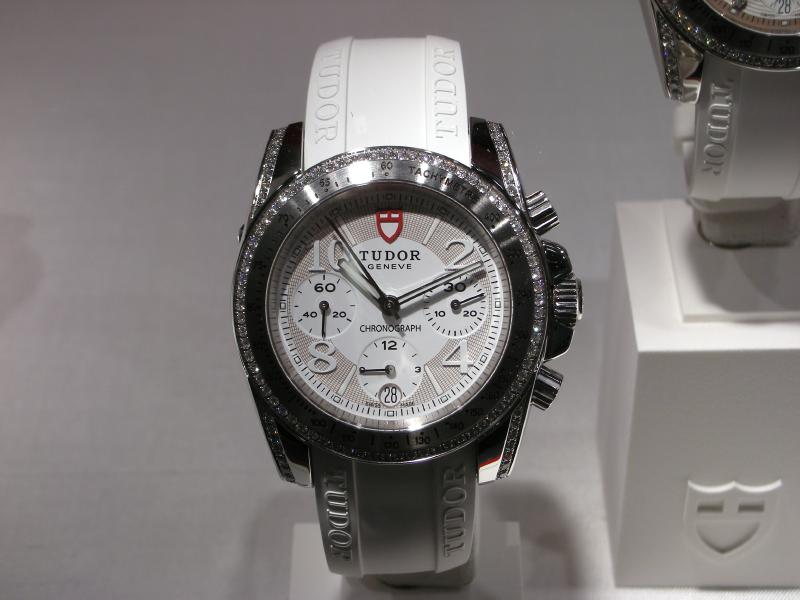 Colorfull things.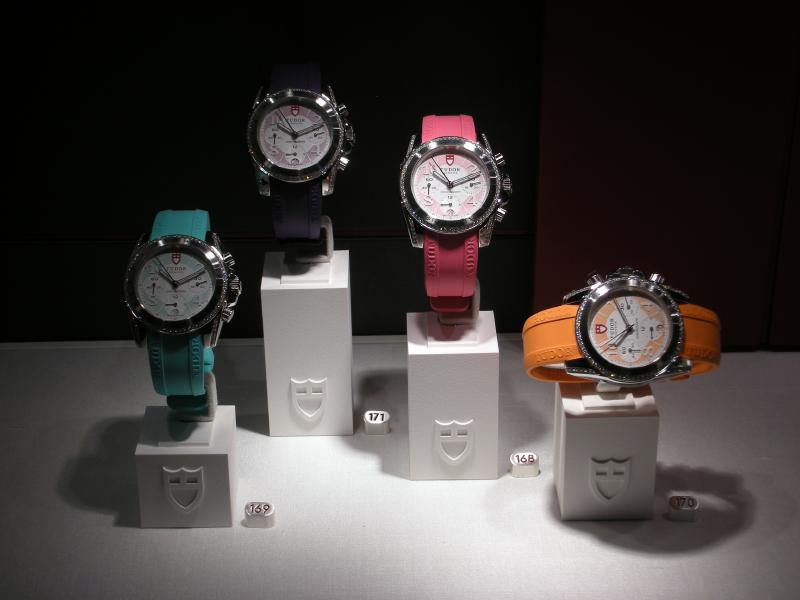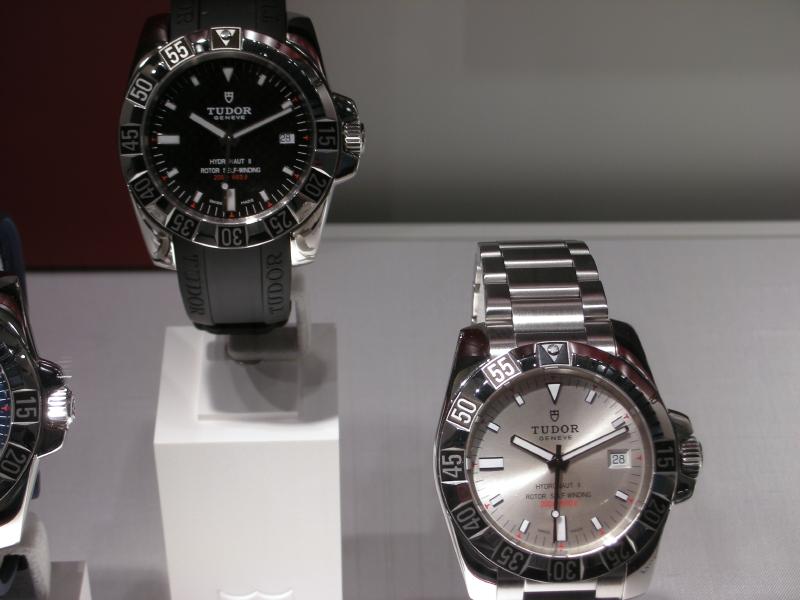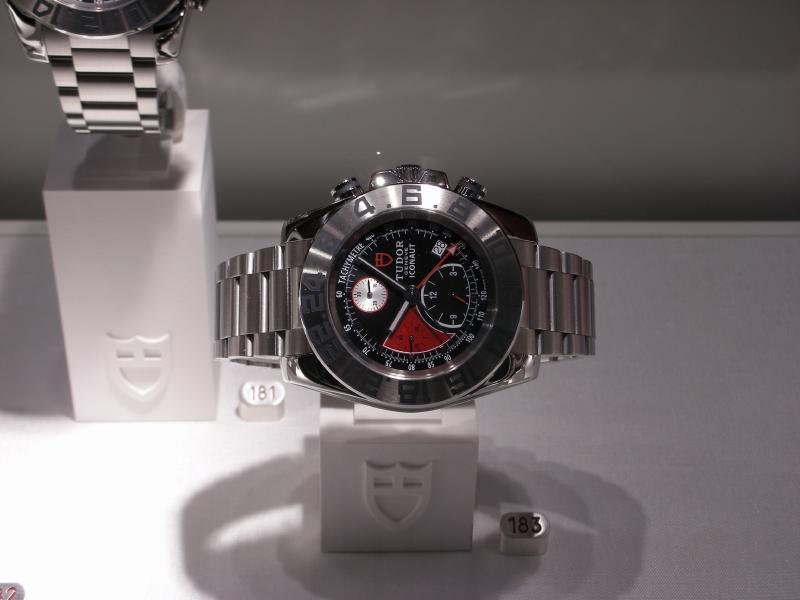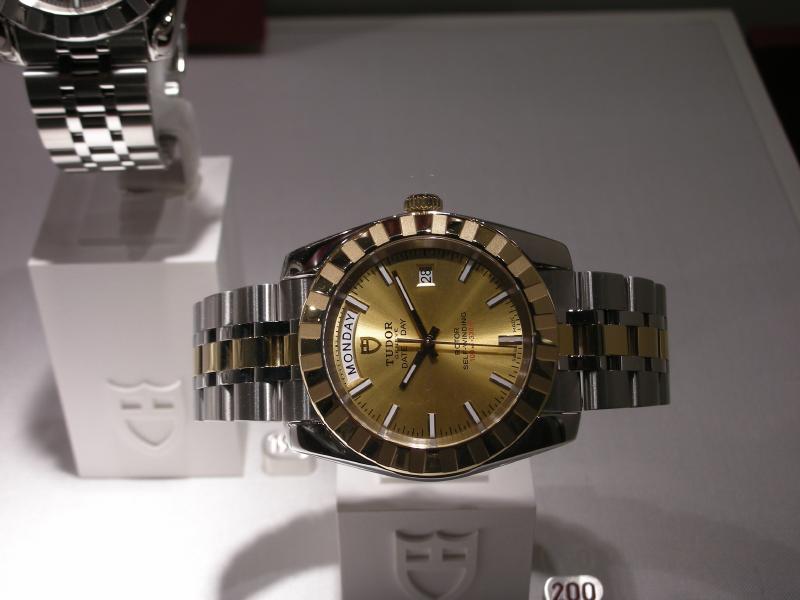 Then I have to get some fresh air.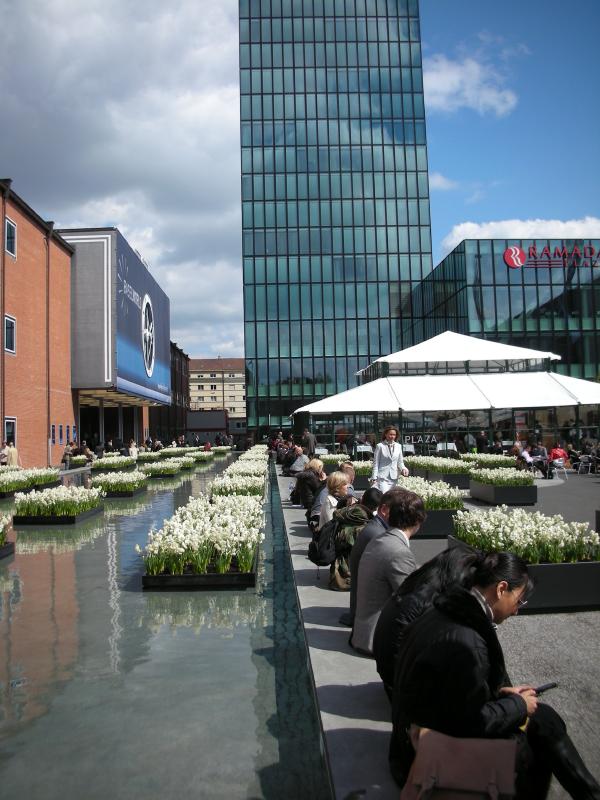 We run into a few norwegians and they canīt stand still for a minute. :-))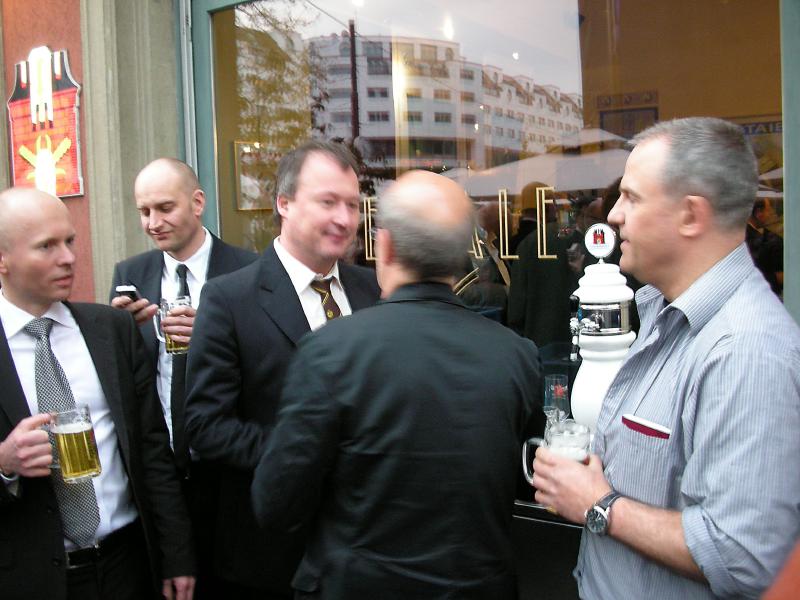 Mr Bill Yao with his wife was there too, that is not her at the left. :-))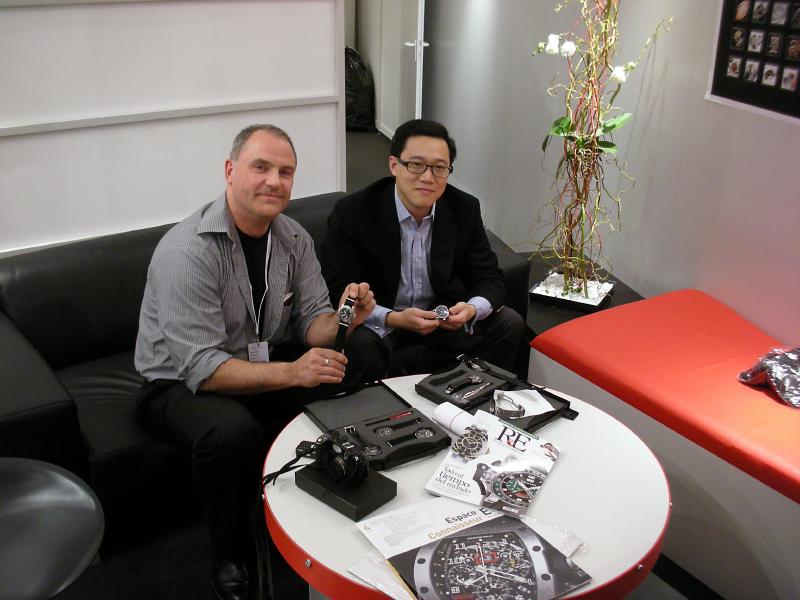 Then I have to check what Glashütte will show me this year.
The new PanoInverse XL is really tempting in the flesh. I will say after have
speak with a few ones, itīs a love or hate watch. I love it, my wallet not. :-))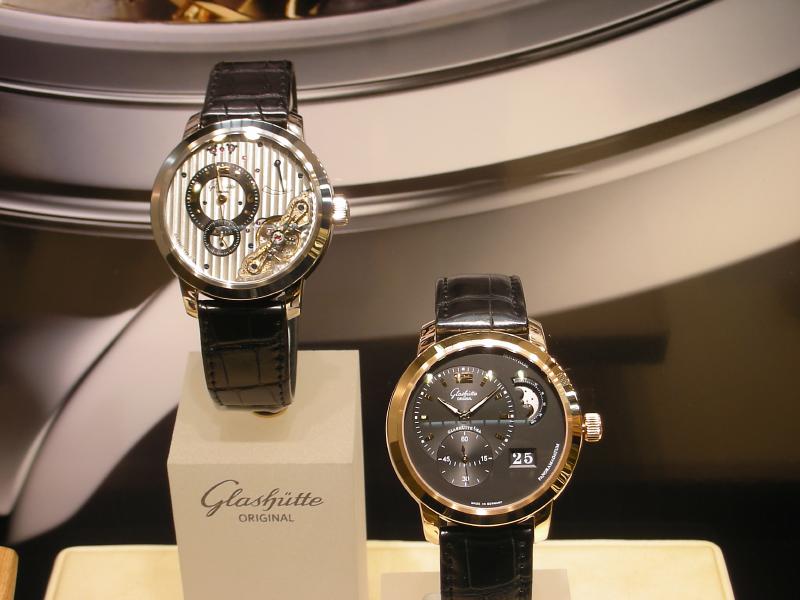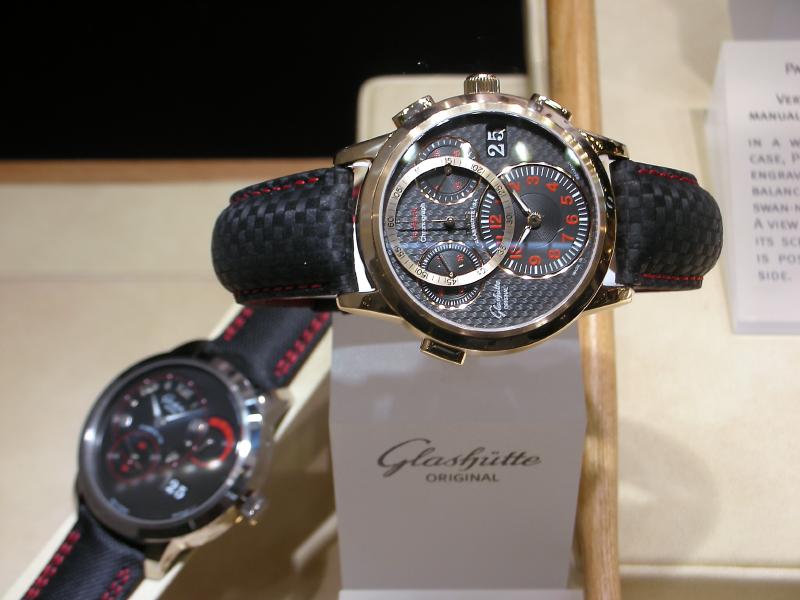 Soething nice for the ladies too.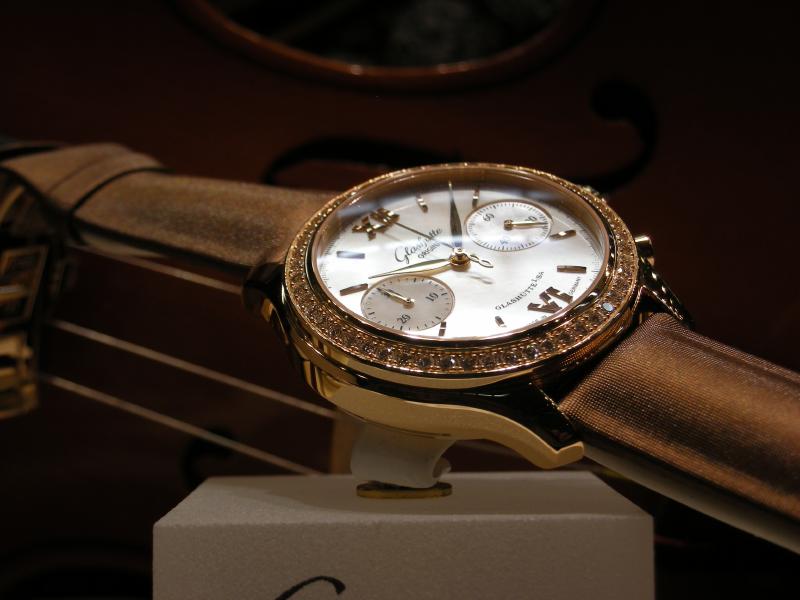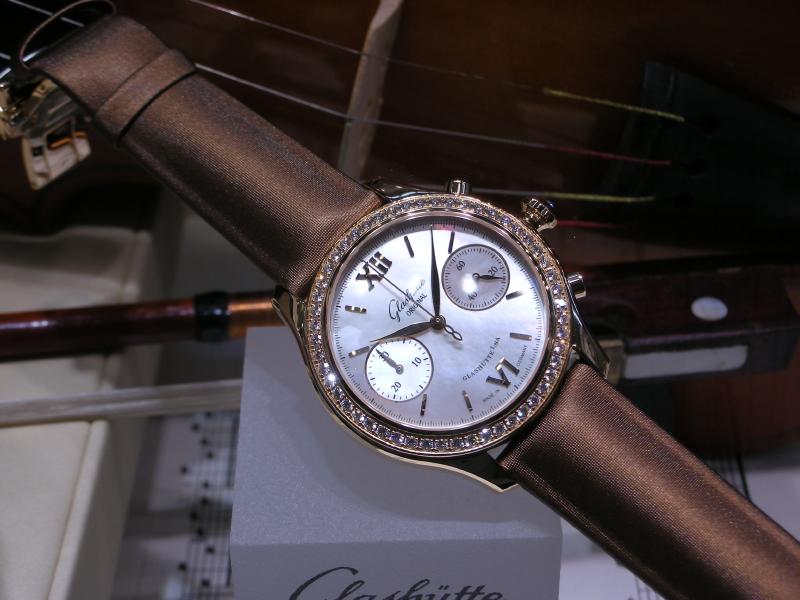 The Sport Evolution Impact Tourbillon.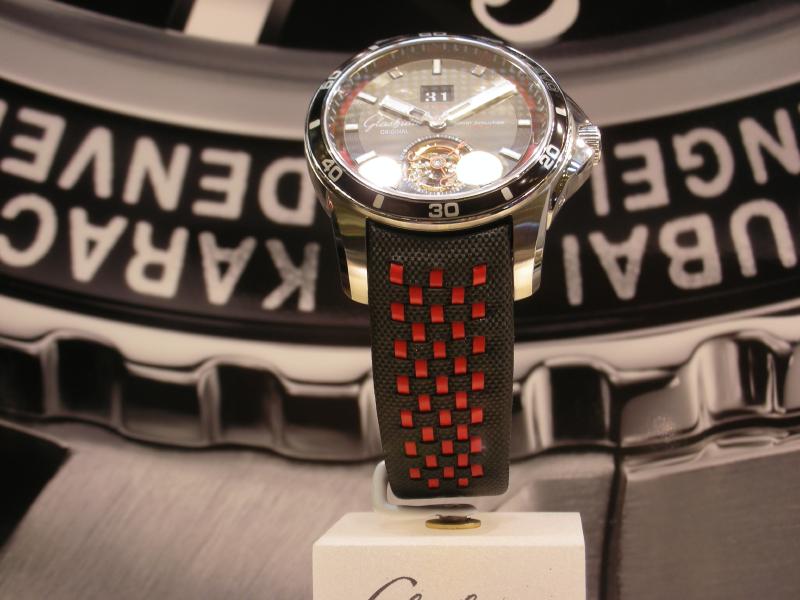 The Sport Evolution Impact Chronograph is not made for the small guys.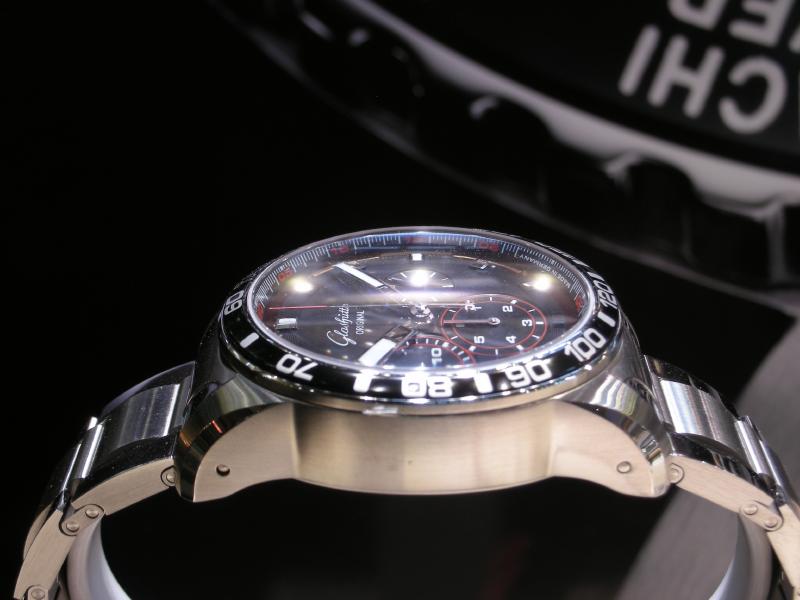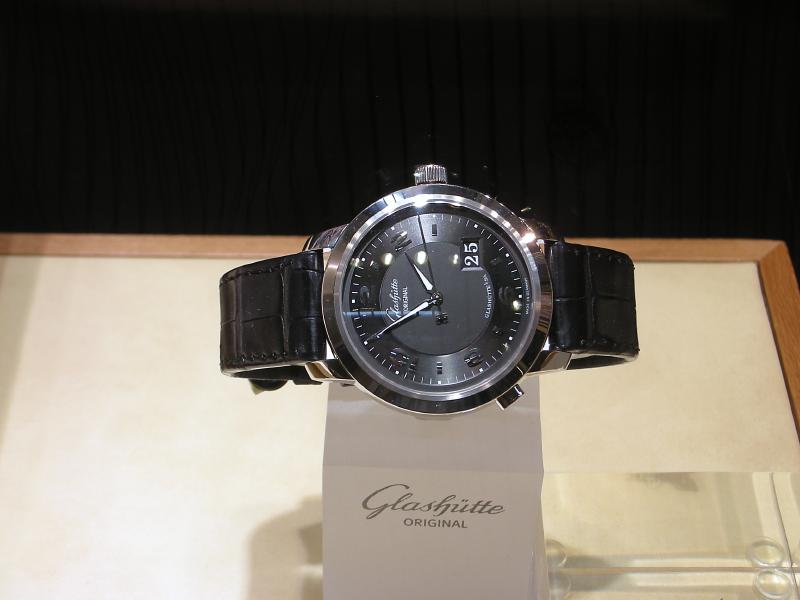 This was one of my favorites this year.
The Senator Sixties Chronograph.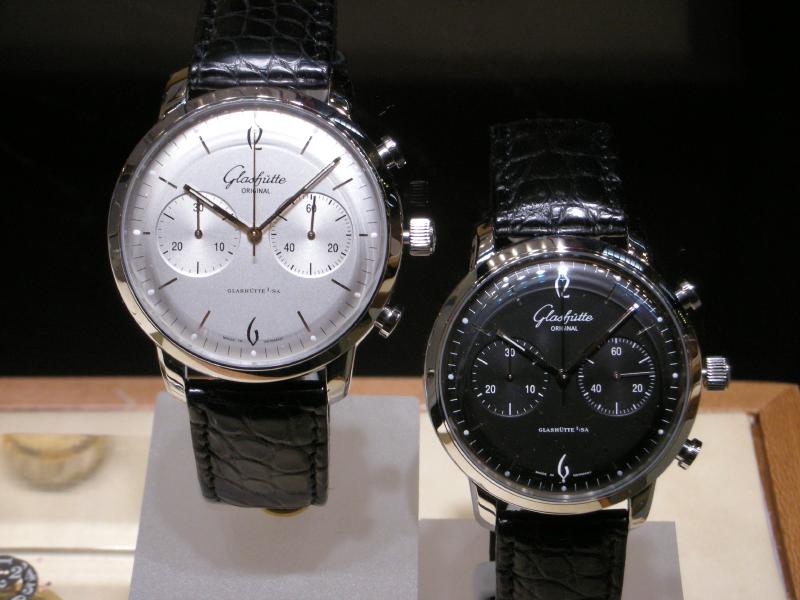 So I leave the booth and check out the new museum building that will be finish
in May this year .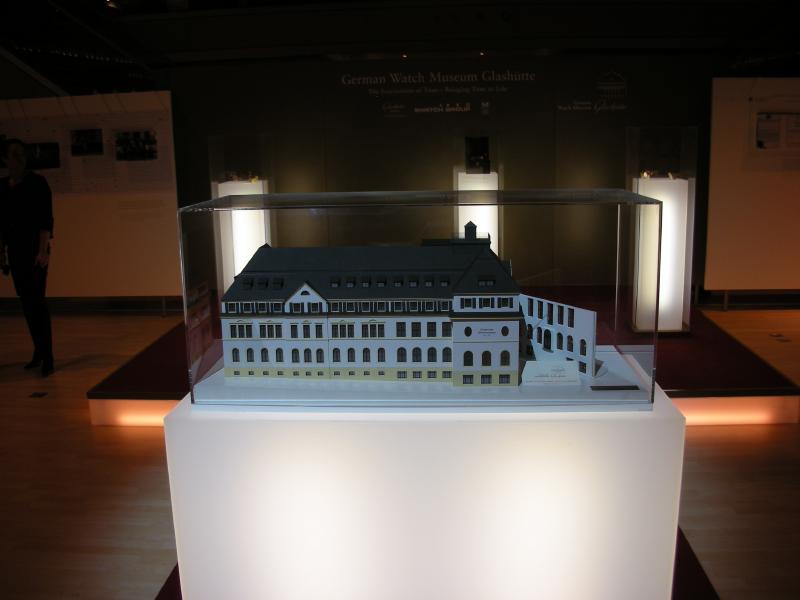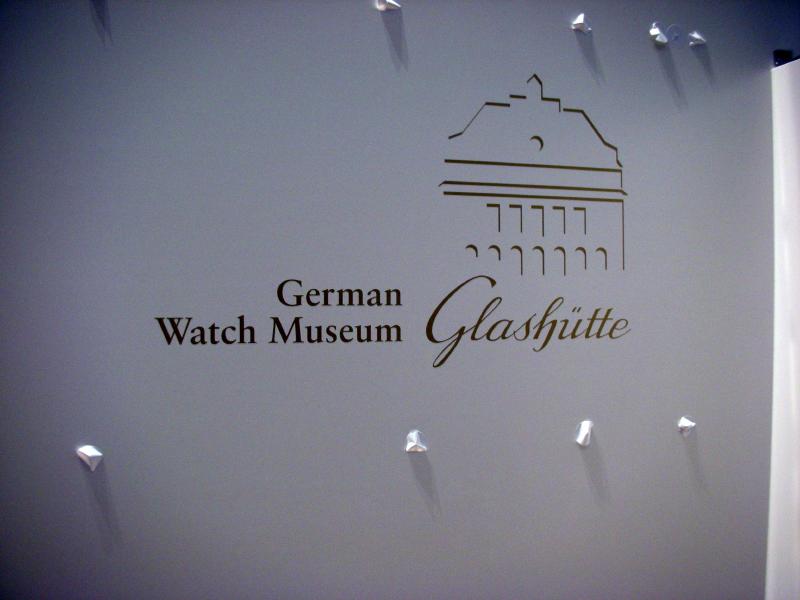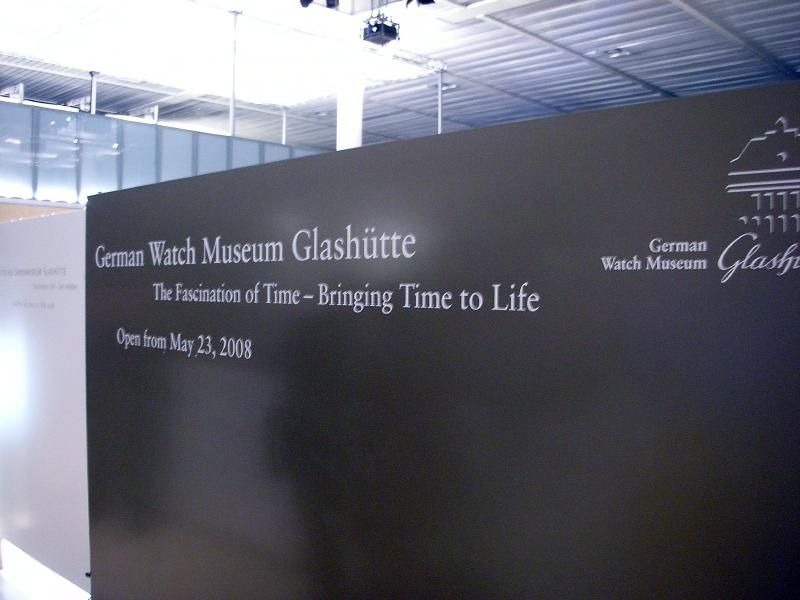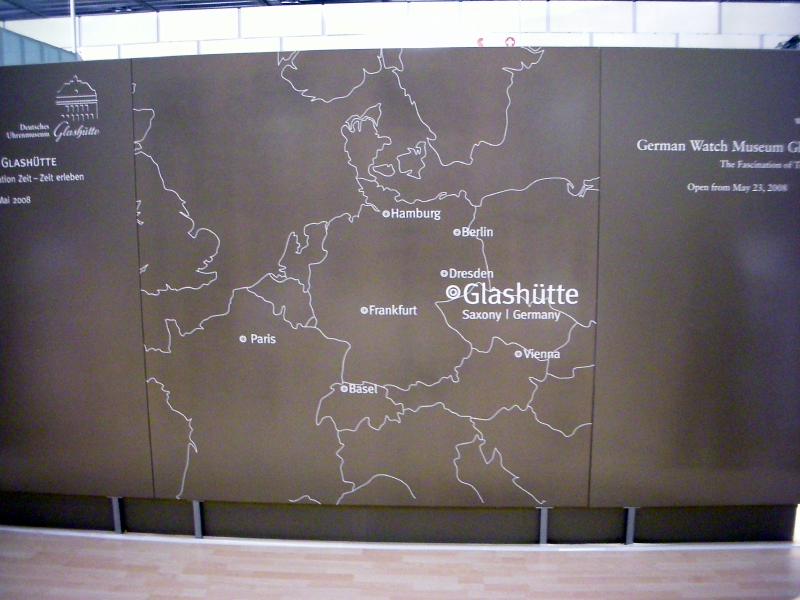 Then it was time for a serious presentation of the new watches.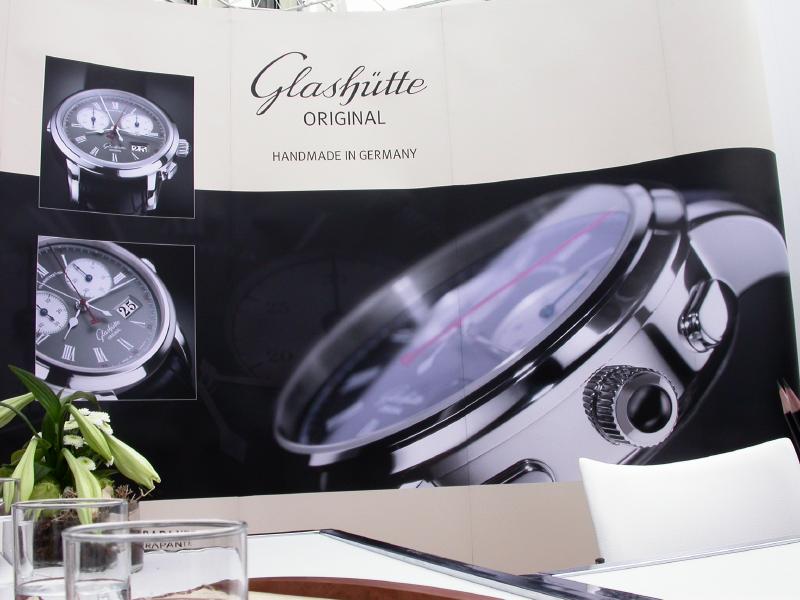 So I have to be one of the first one in place to make sure to get a nice place at the table. :-))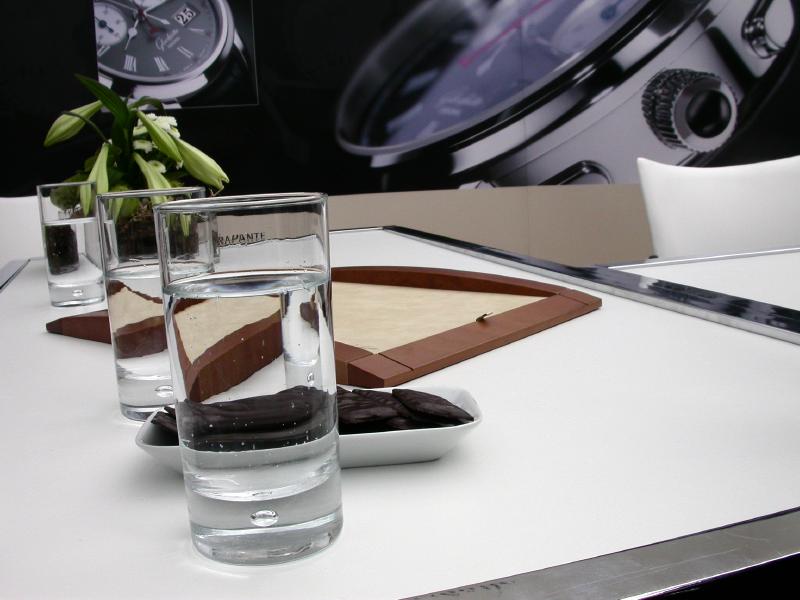 Then Dr Frank Müller arrived and start up with a nice welcome.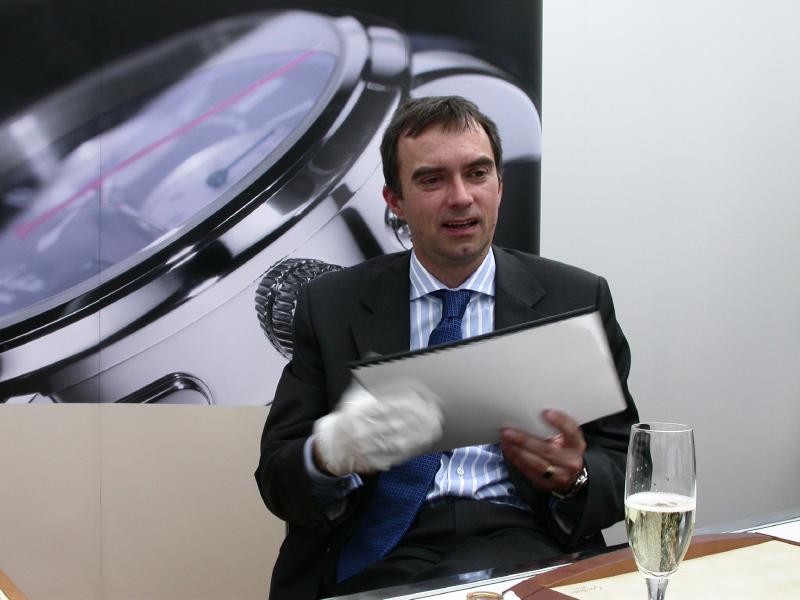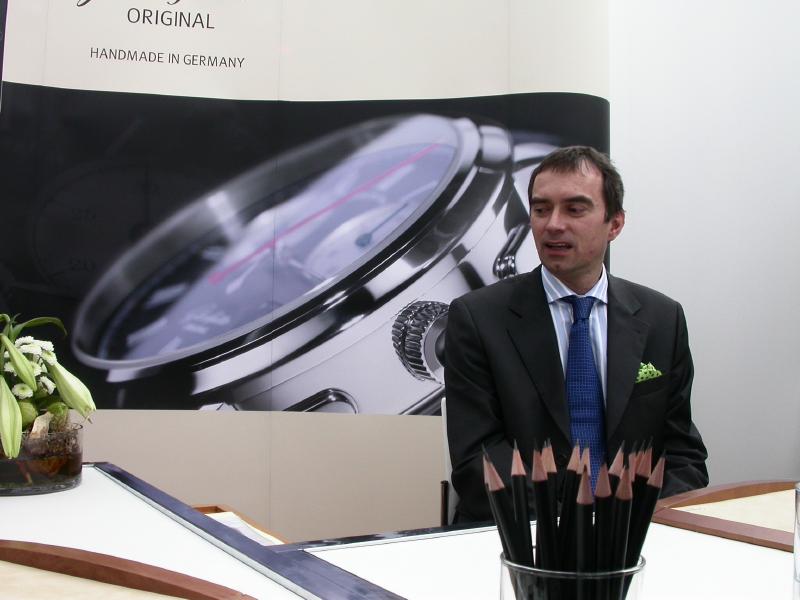 There was a few familiar faces from all over the world.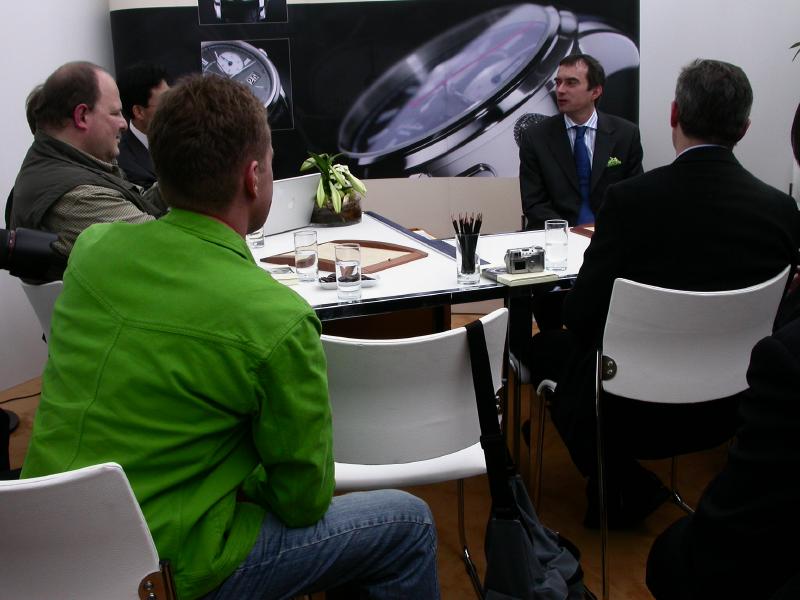 So now we will grab the things and check them out close.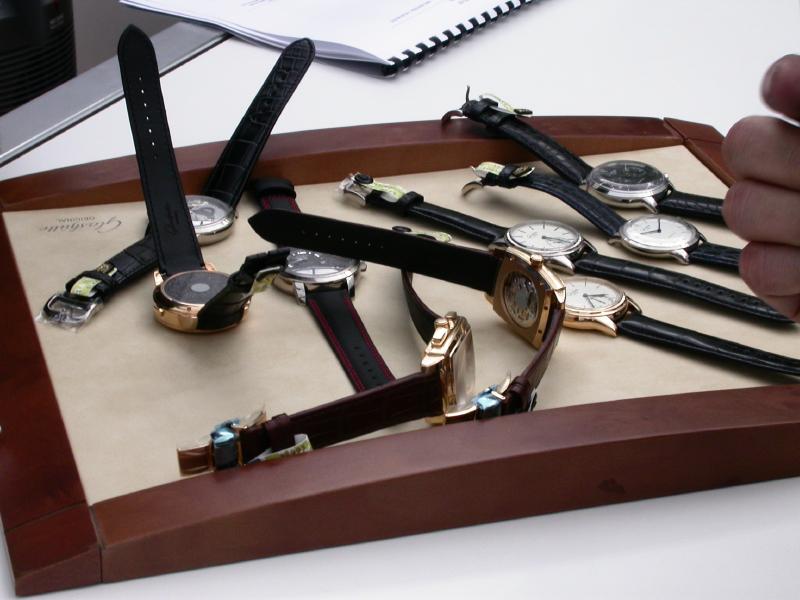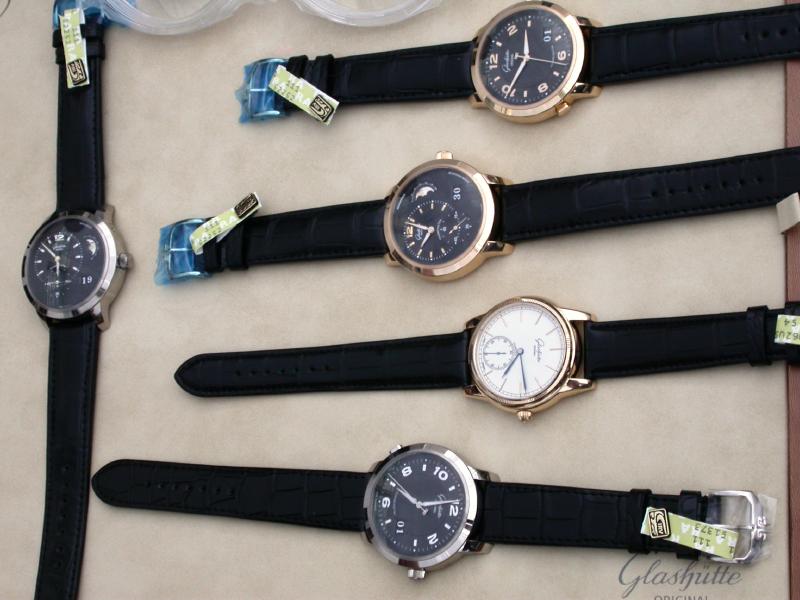 So just enjoy.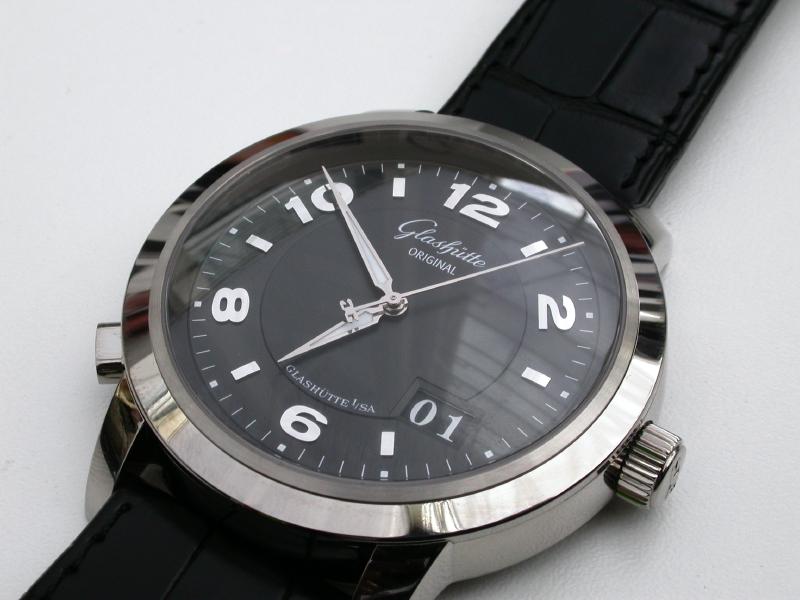 The 1878 Moritz Grossmann in RG.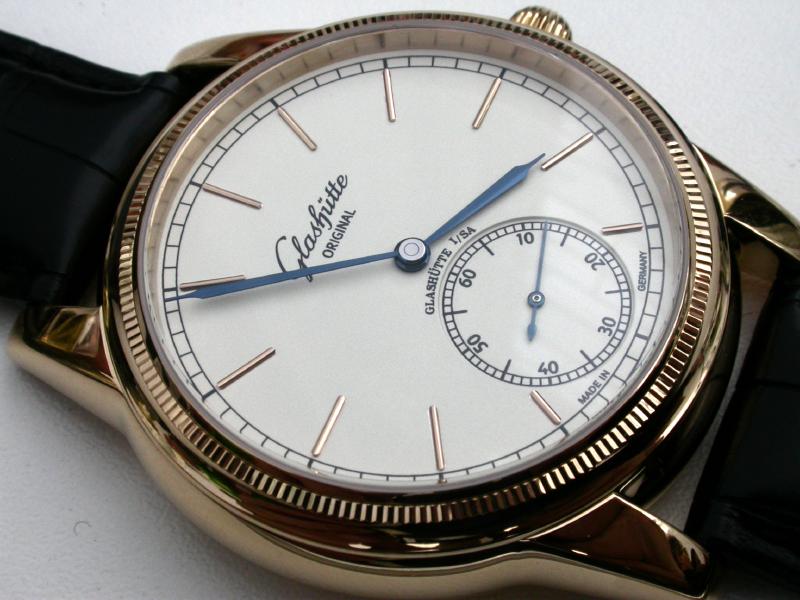 With the glassback.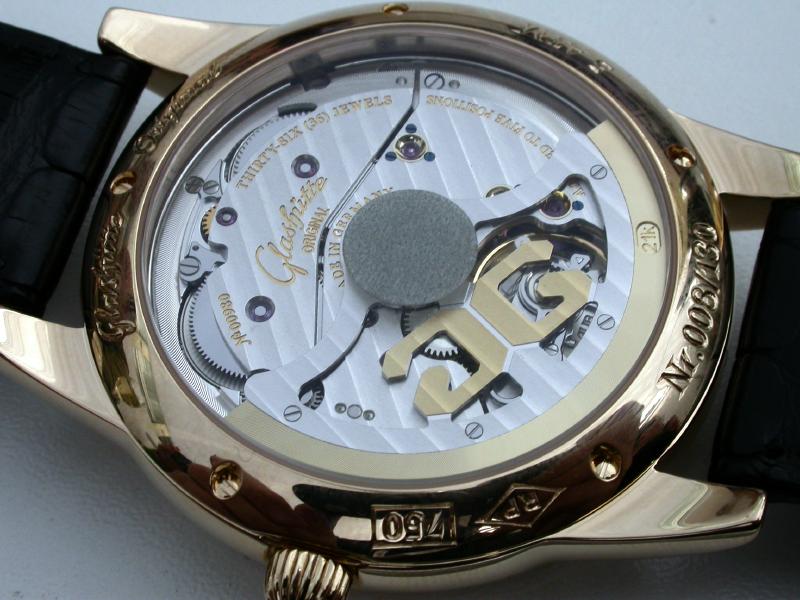 Itīs comes with a soild backcase too, this is for the WG version.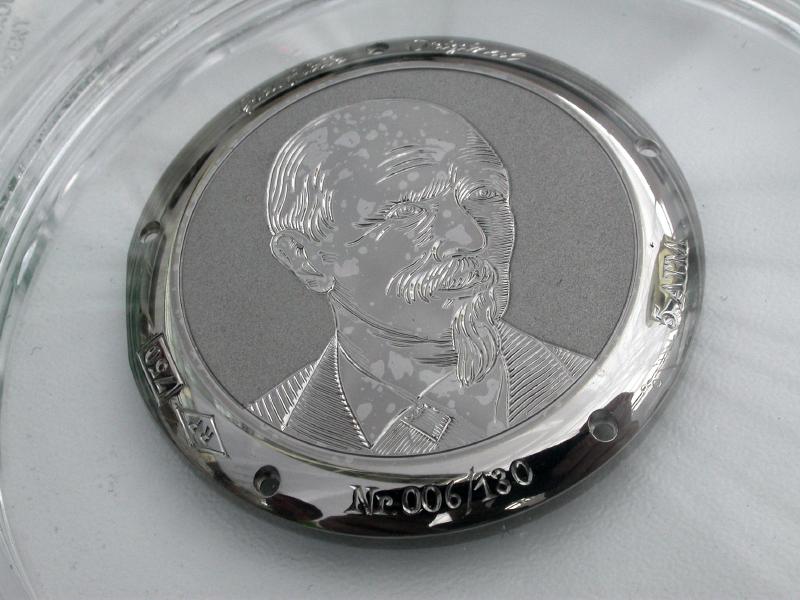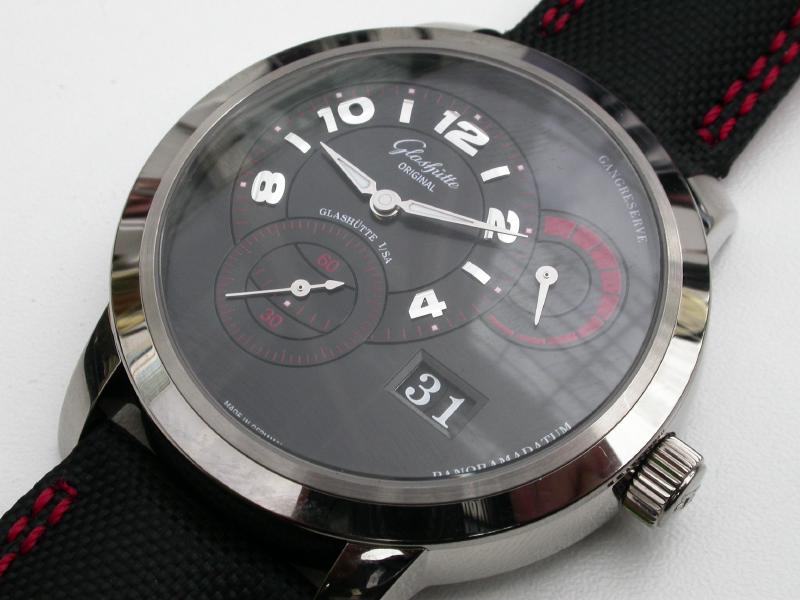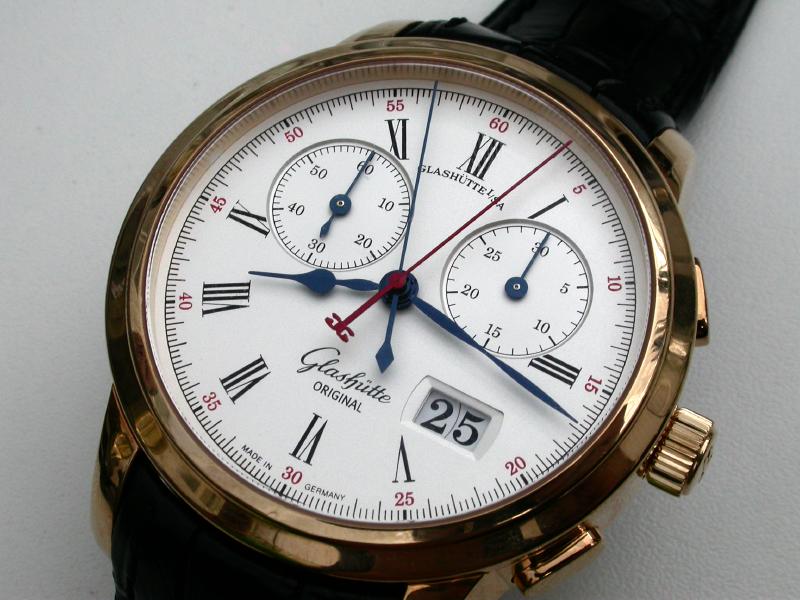 One of my favorite.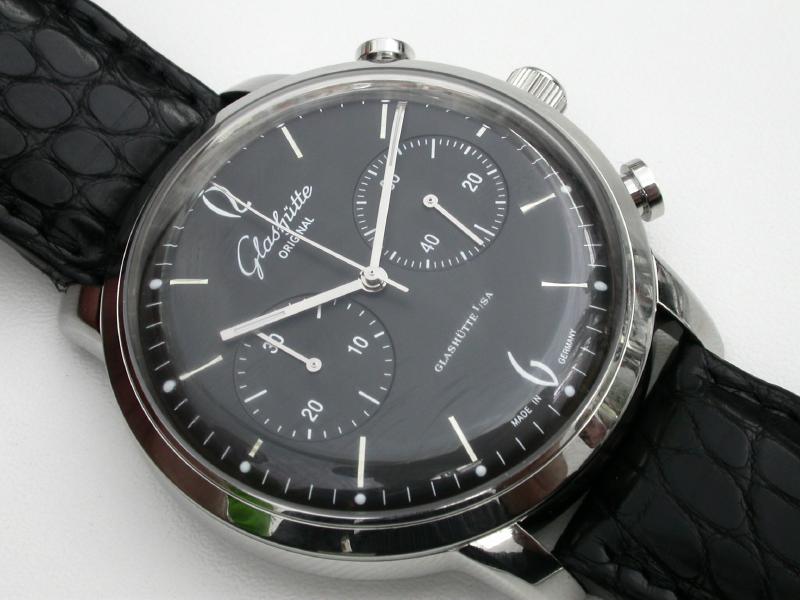 The Sport Evolution Perpetual Calender.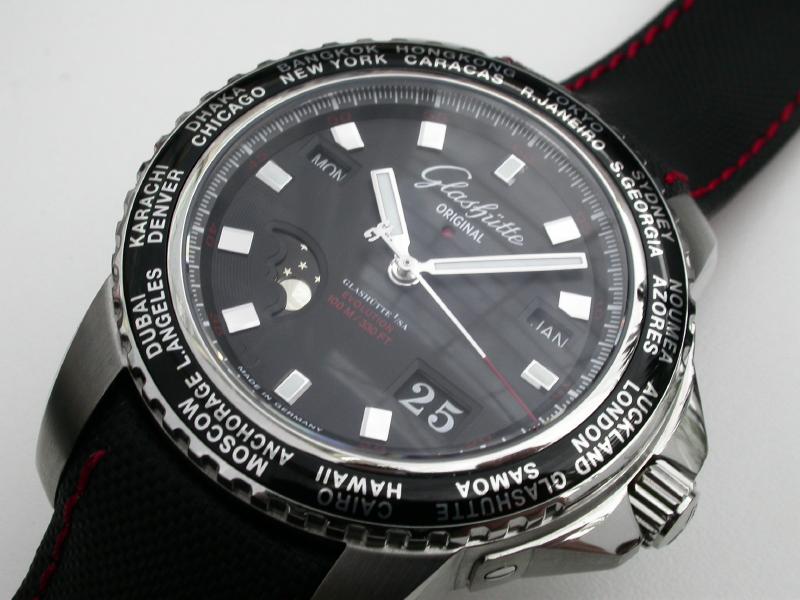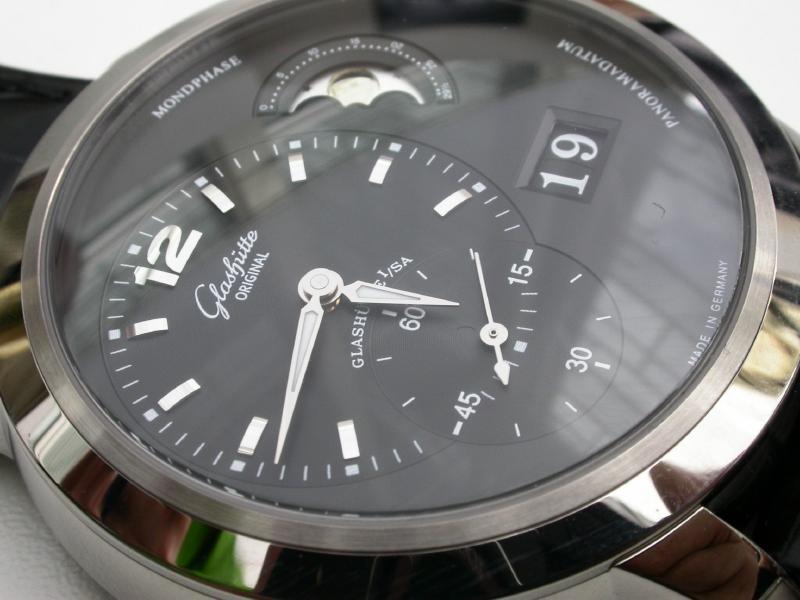 The Sport Evolution Impact Chronograph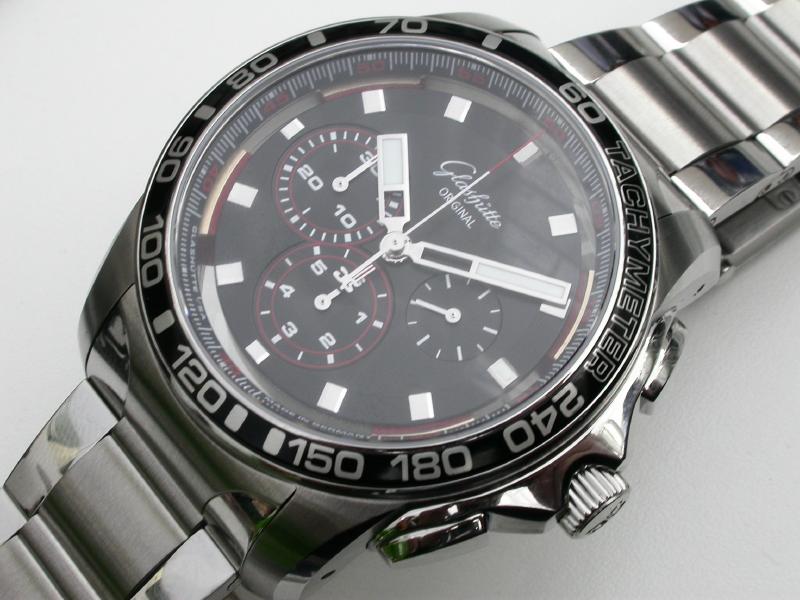 With a rubber blocks that keep the movement in place.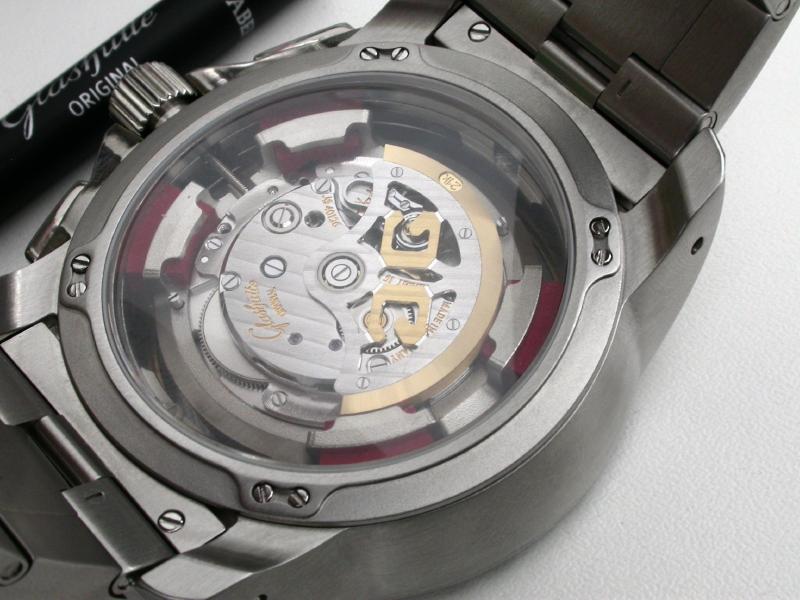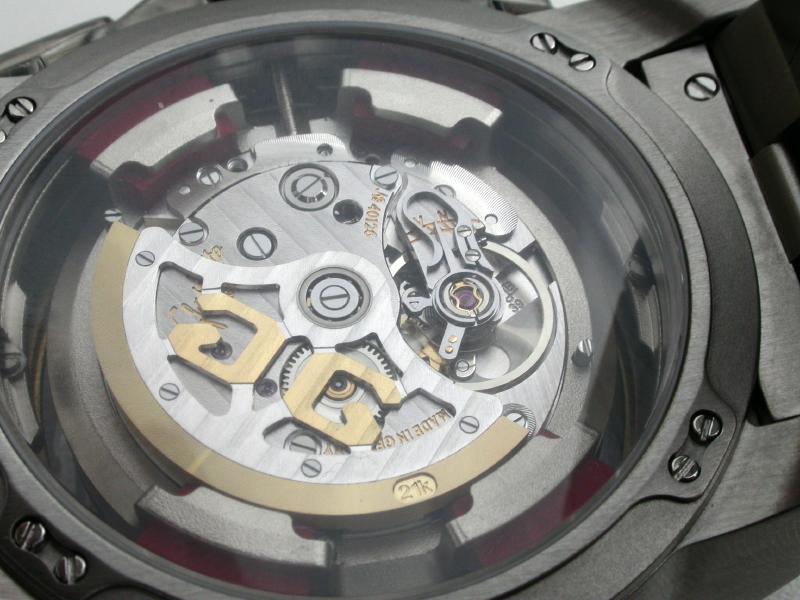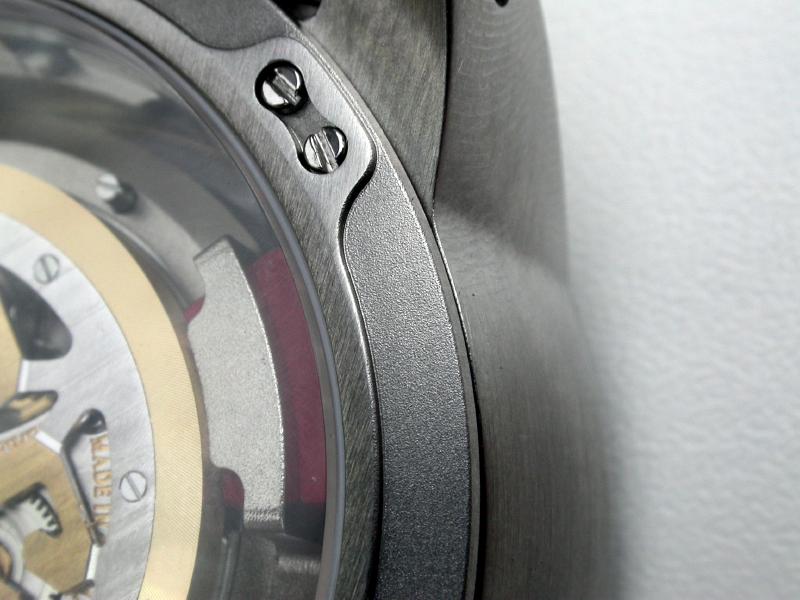 The Sport Evolution Impact Tourbillon.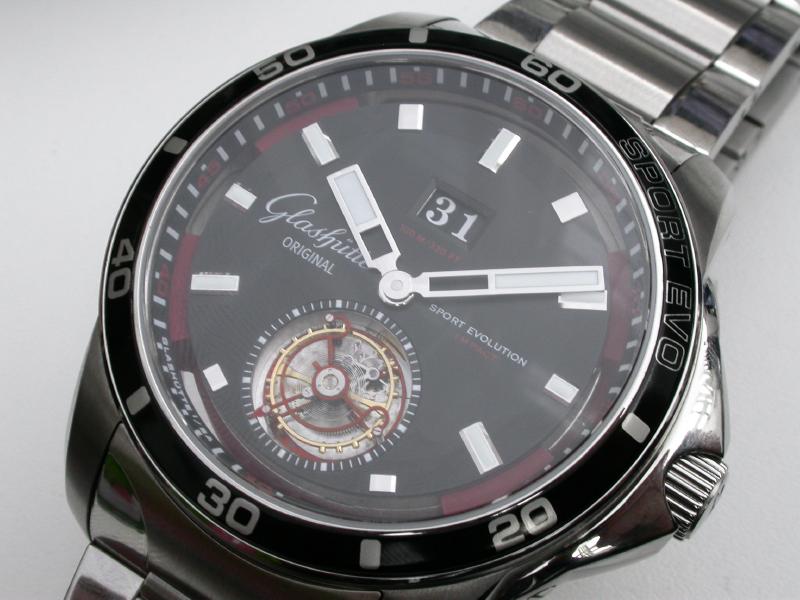 A rubber ring around the movement.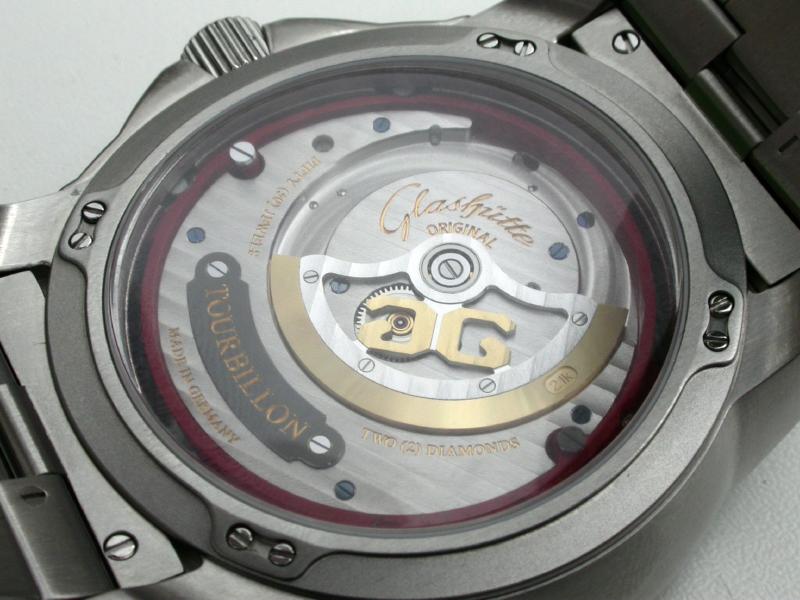 The PanoInverse where GO have inverse the movement. Dr Müller told me
that is possible to inverse all the parts except a few things in the chronograph
movement. I really like this one.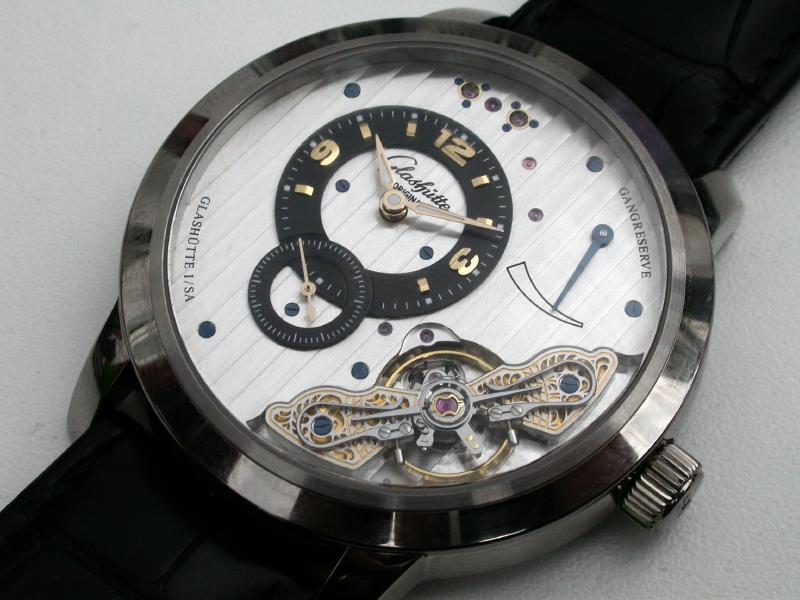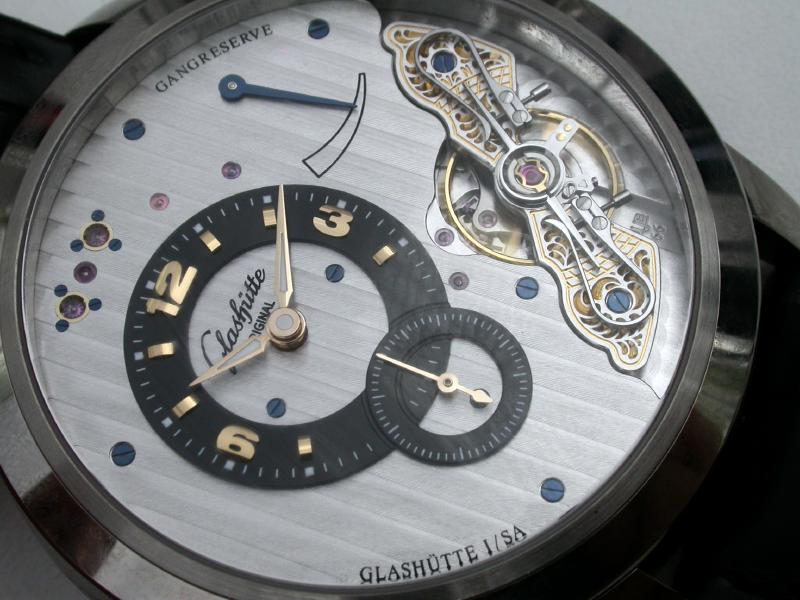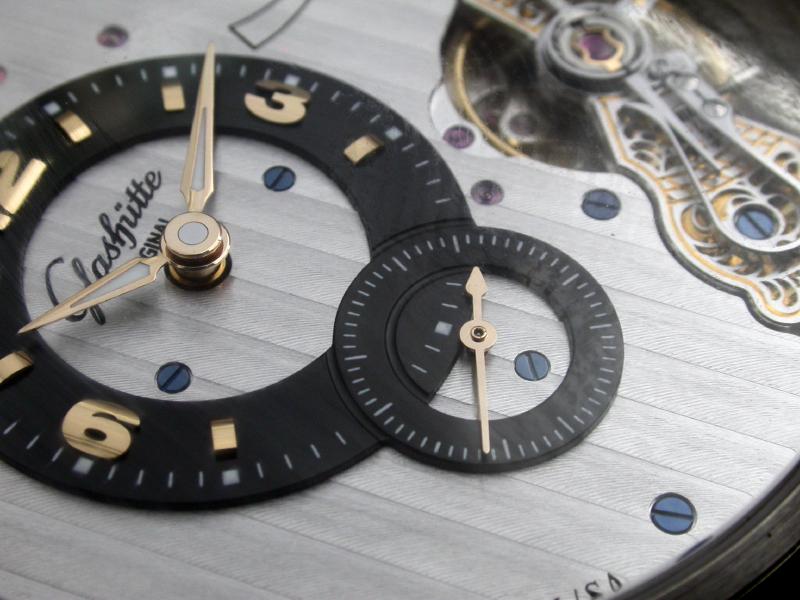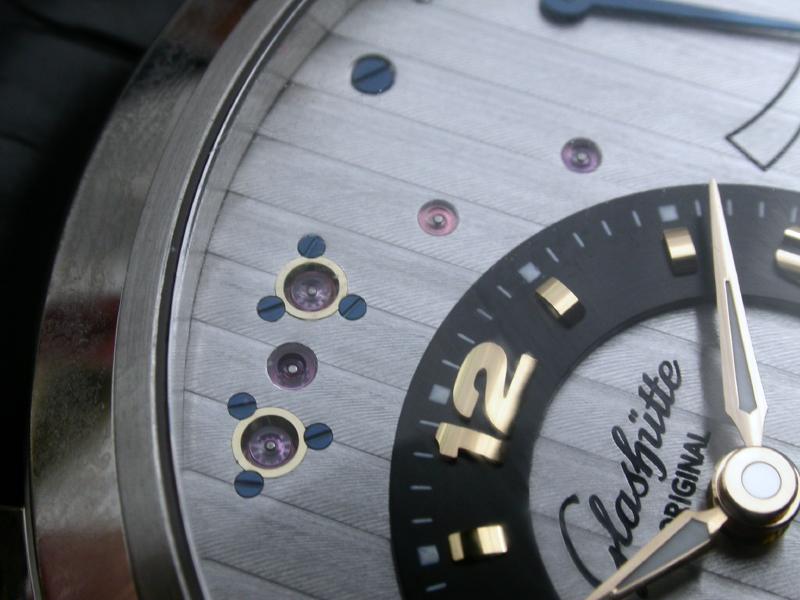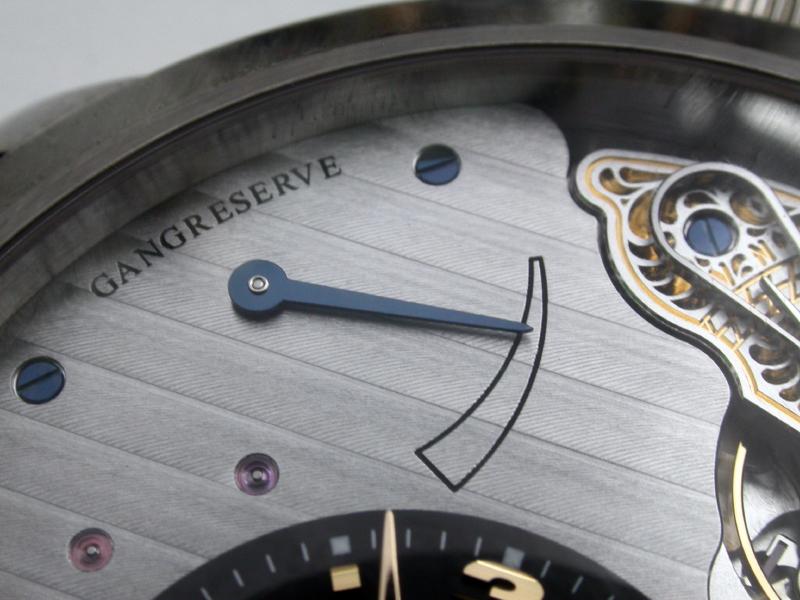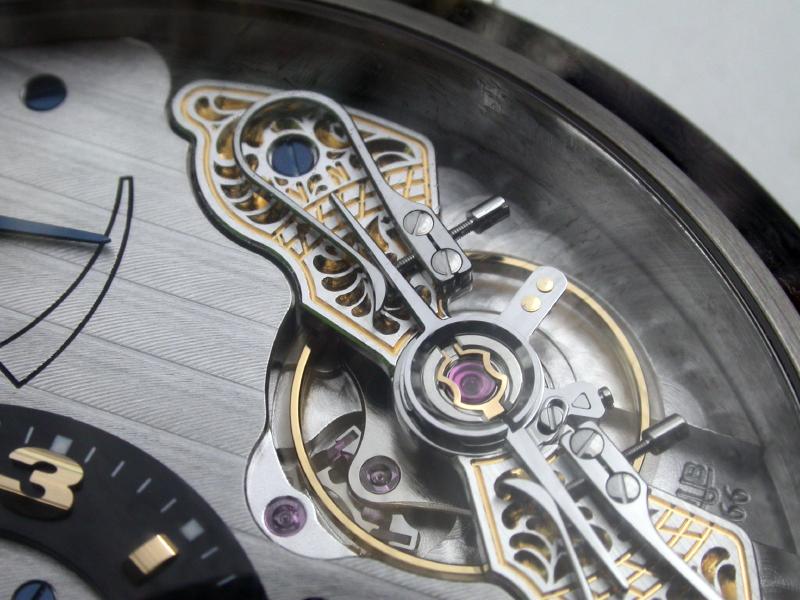 The backside looks a little strange, itīs not what you use to see.
What will you call it?
Fullplate?
I donīt know.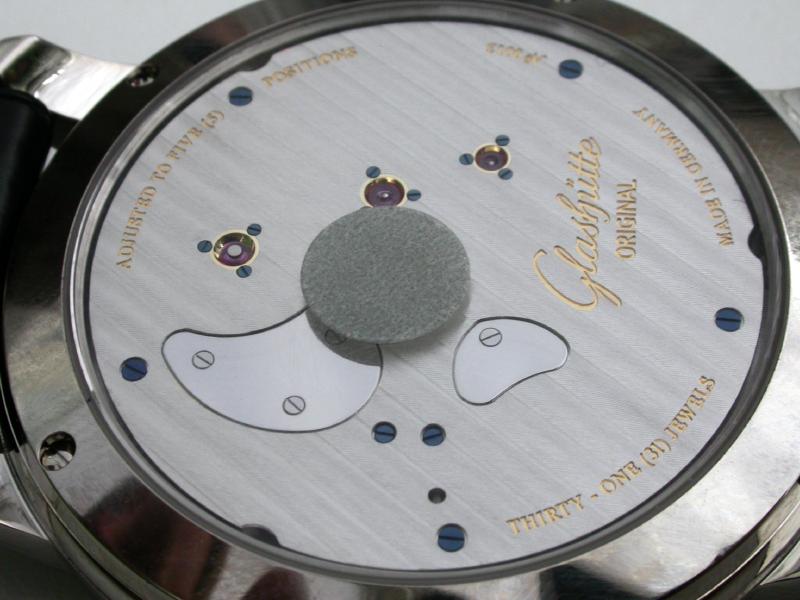 And of course the ladies have to looks nice too.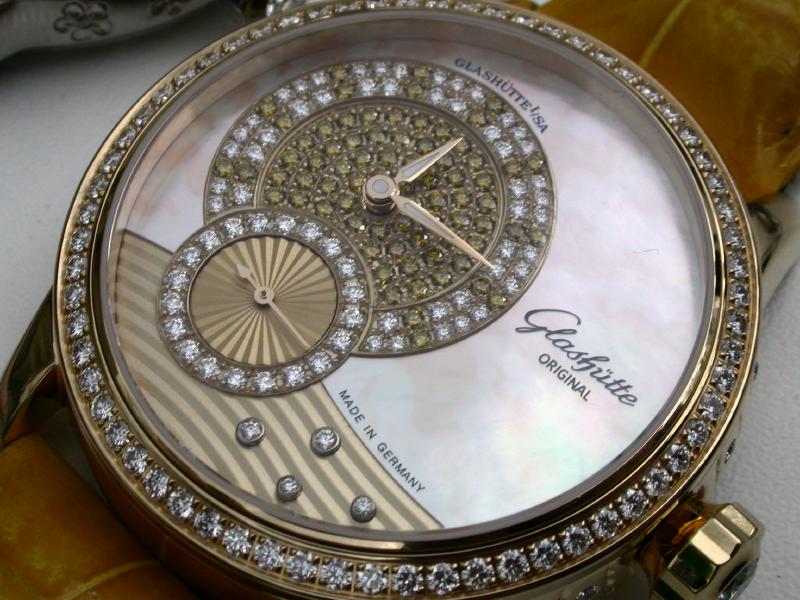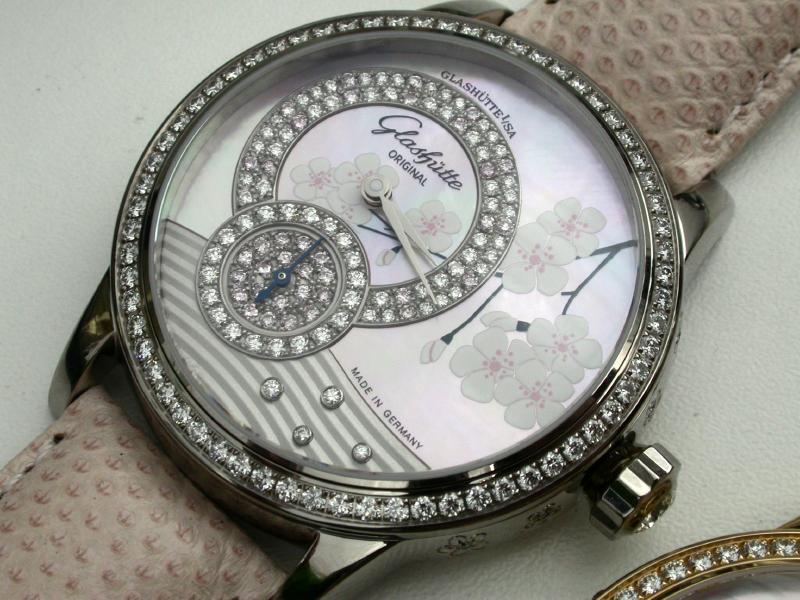 Then we have to went out for the dinner.
As usual itīs at Charon.
This years comedian with Patrick Lee.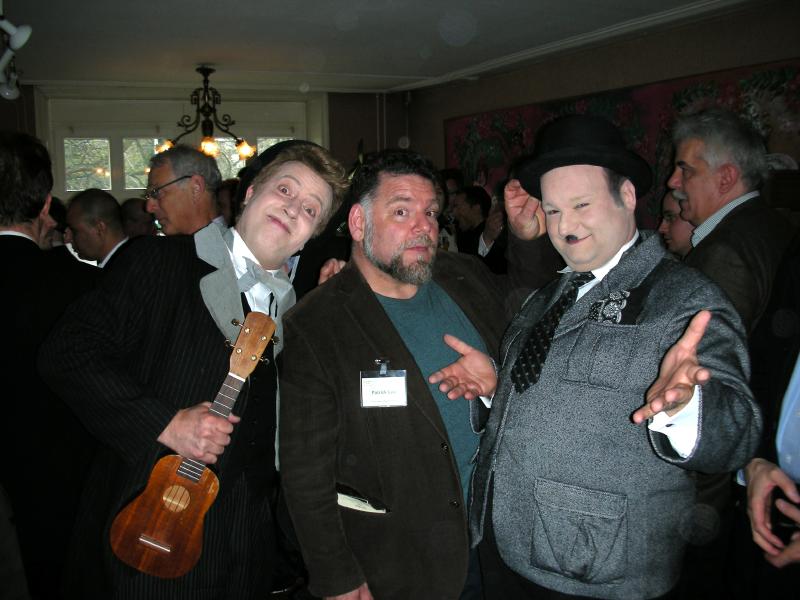 Peter Chong try to convince his Iphone is at least that accurate as a GO watch. :-))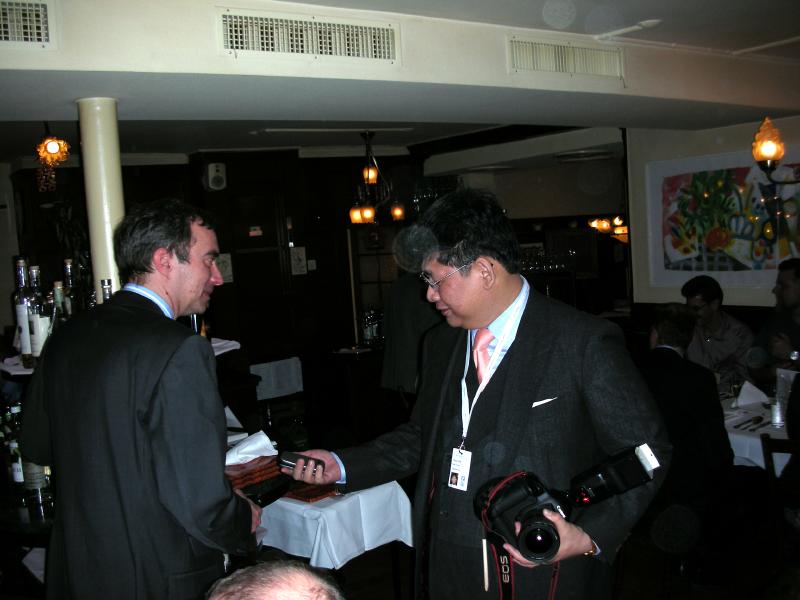 Gerd, you have to keep your eyes on Martina. :-))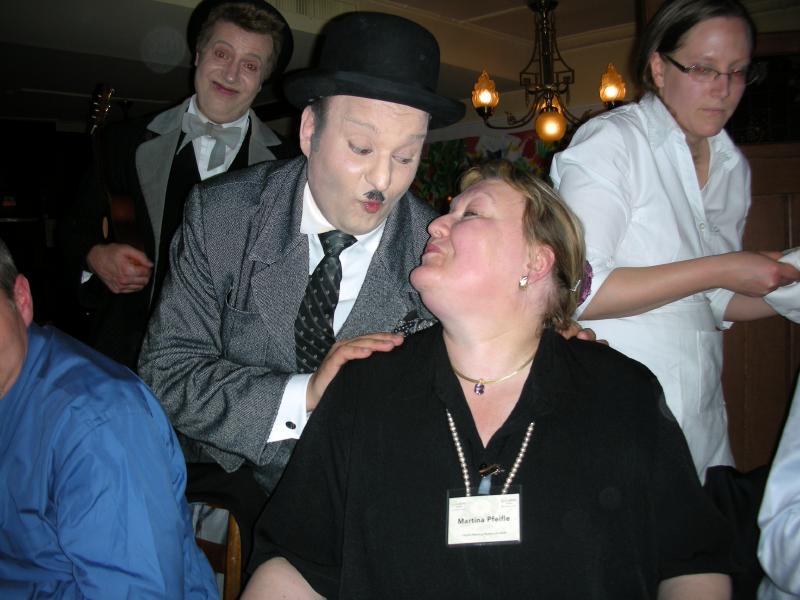 And not only at the watches. :-))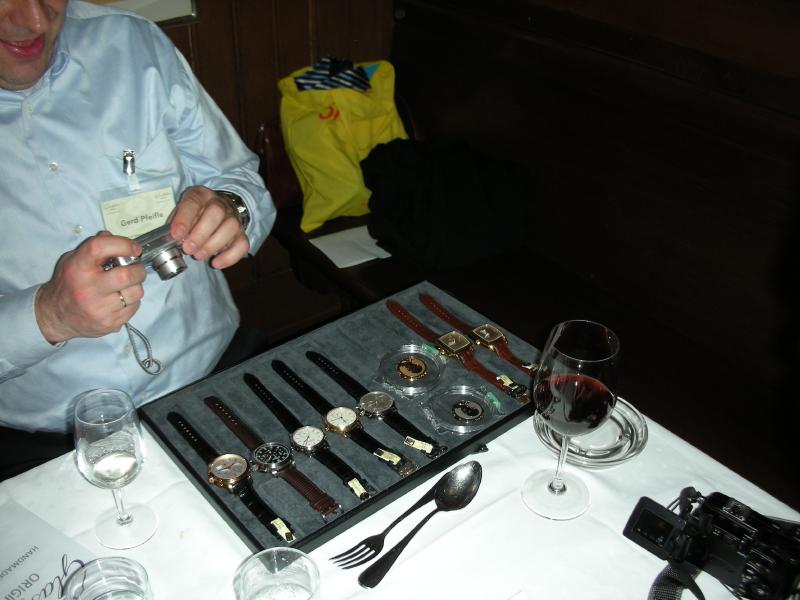 Michael Sandler was with us for the first time, here with Hans Zbinden at his side.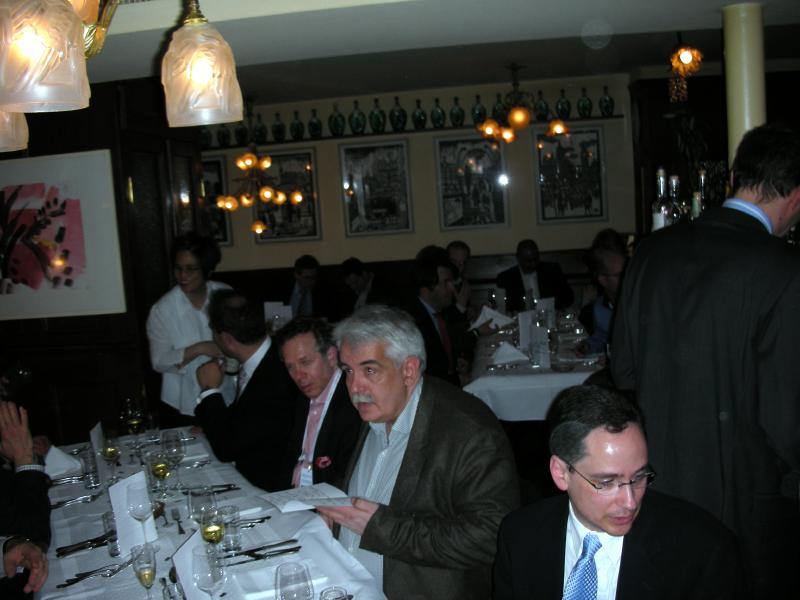 The menu was at the table, so we have to see what it says.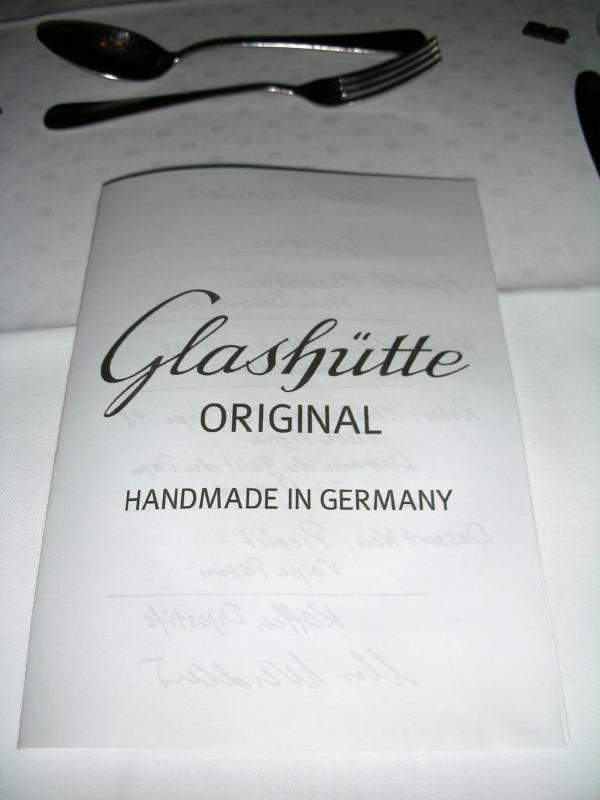 Unfortunately my german is not soo good, so itīs a great thing to split the table with
Gerd and Martina in more than one way.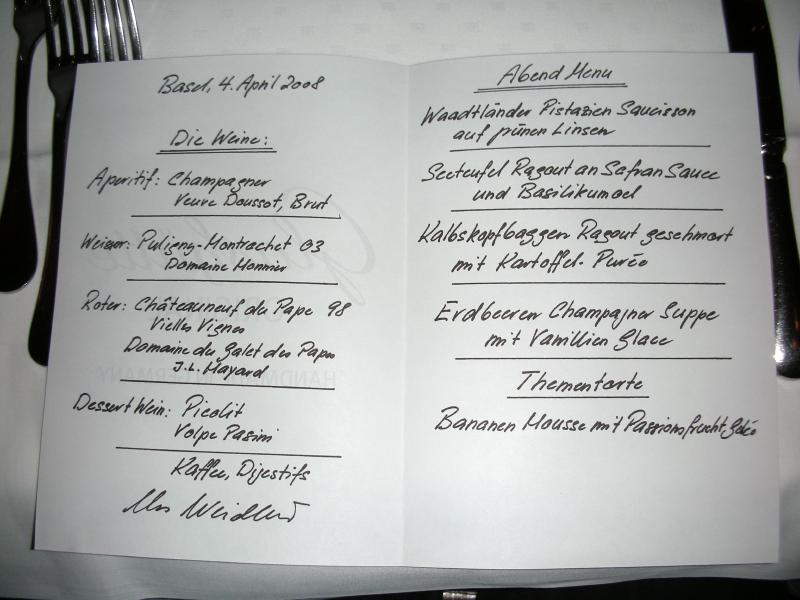 Here we go.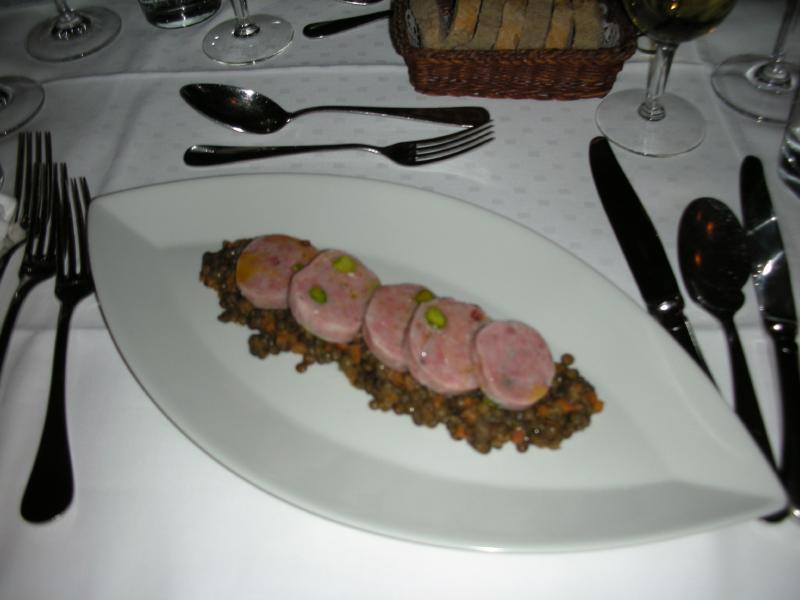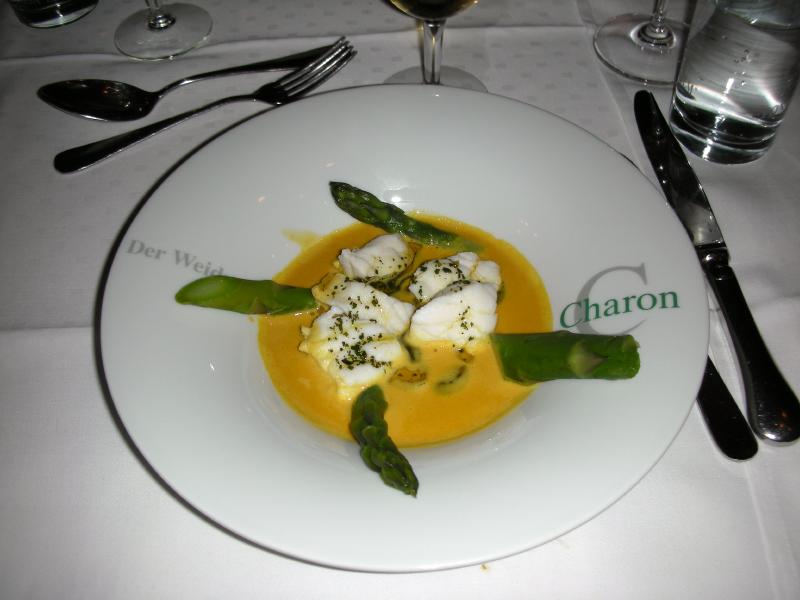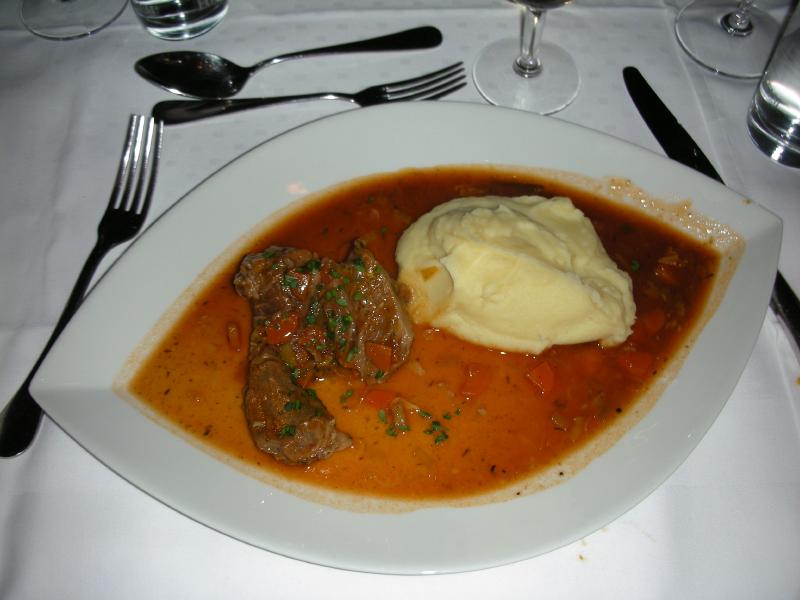 Could it be better that a great dessert and a Senator Sixties Chronograph beside the plate.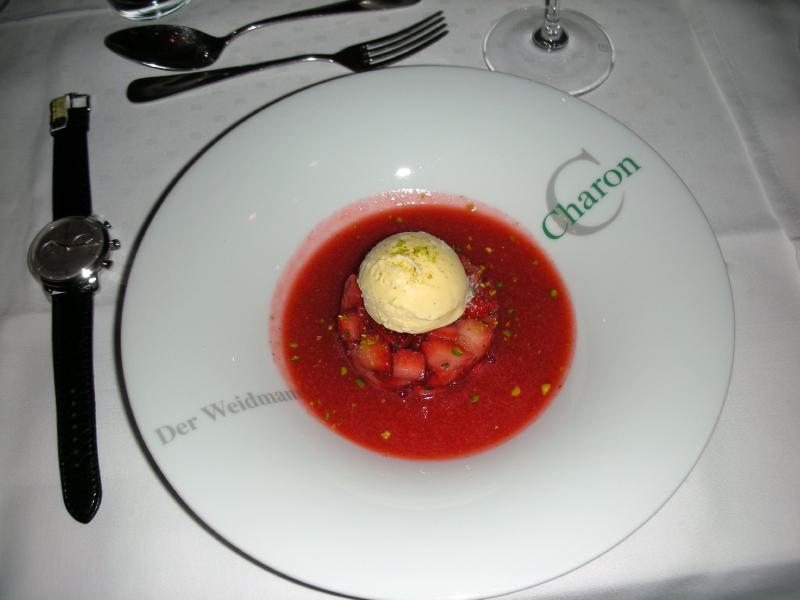 Mmm that one looks nice.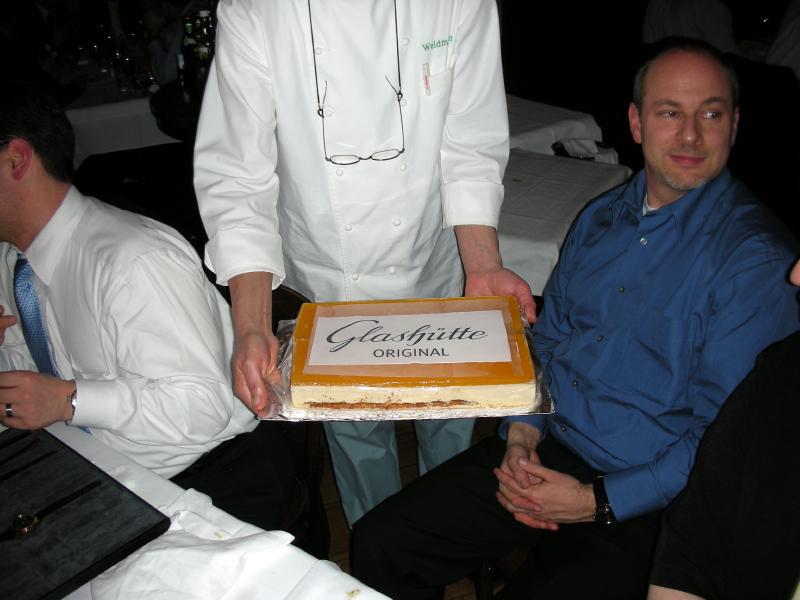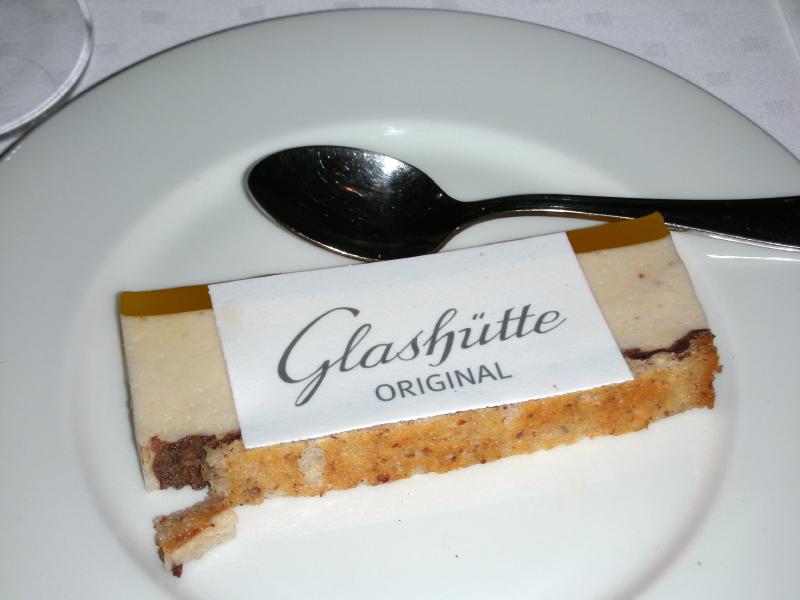 Then the watches was all over the place.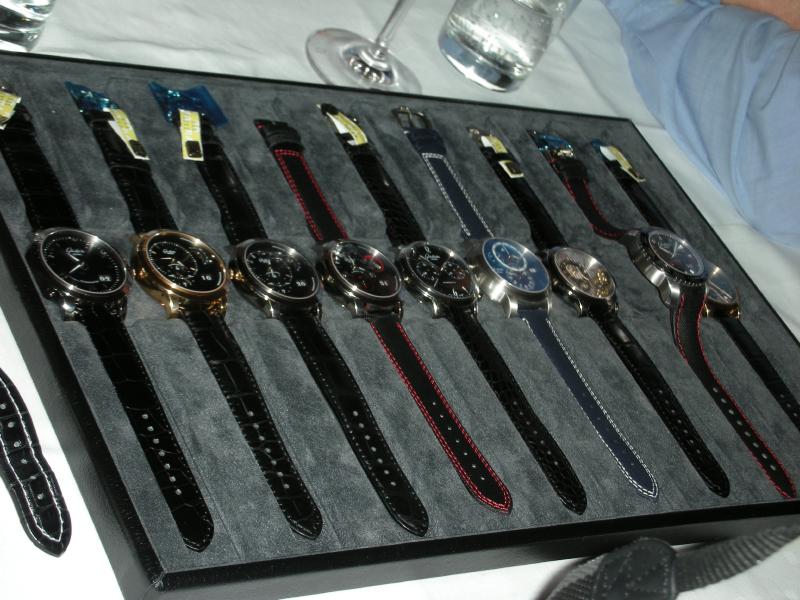 This is another favorite.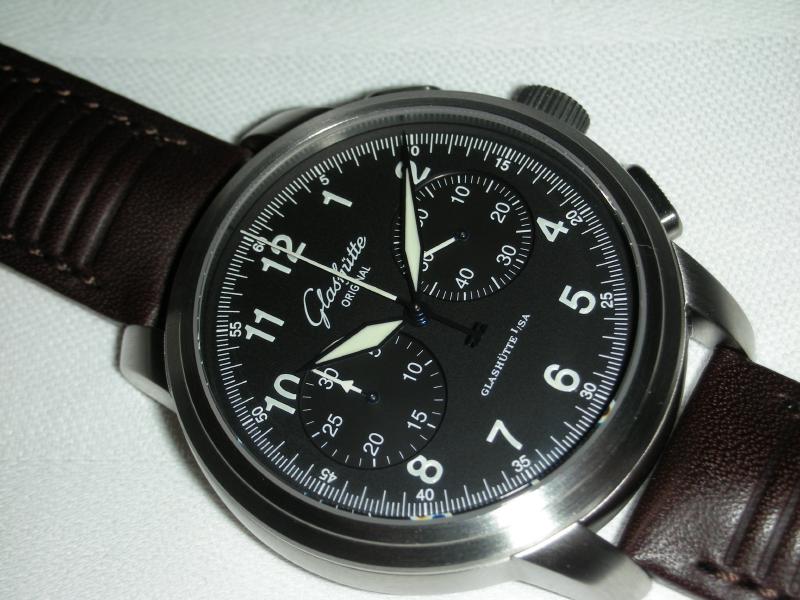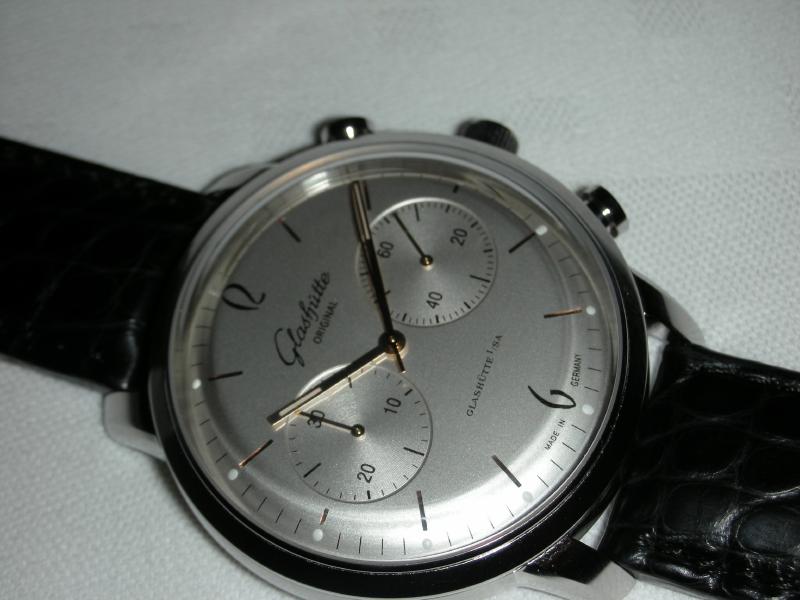 The 1878 Moritz Grossmann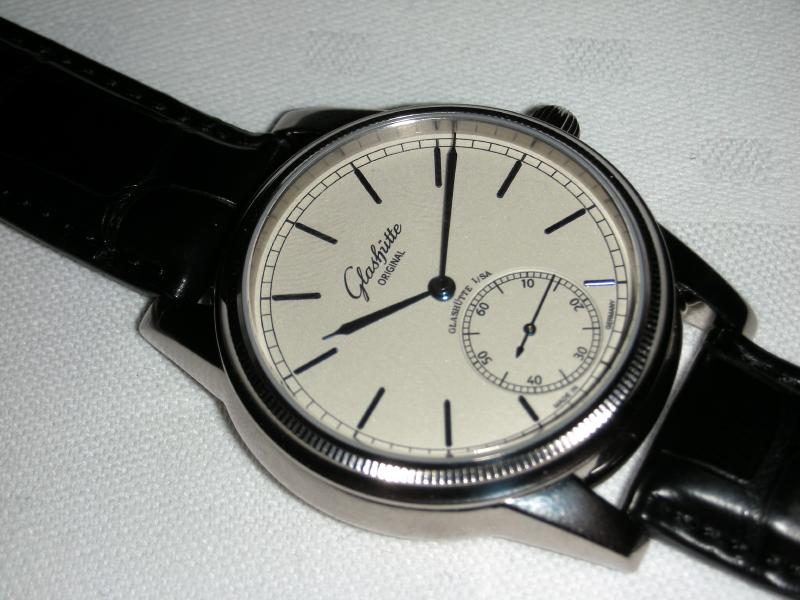 I just love this pair.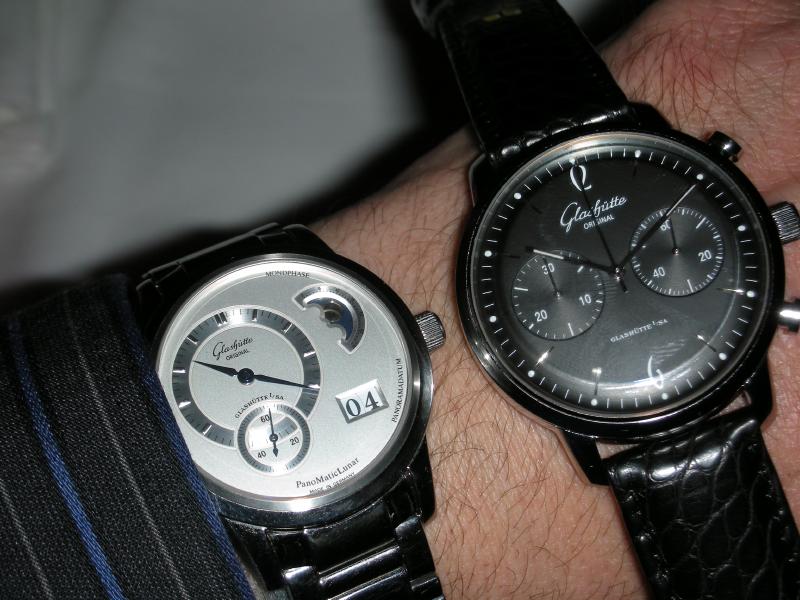 The Panomatic Chrono XL in Platinum.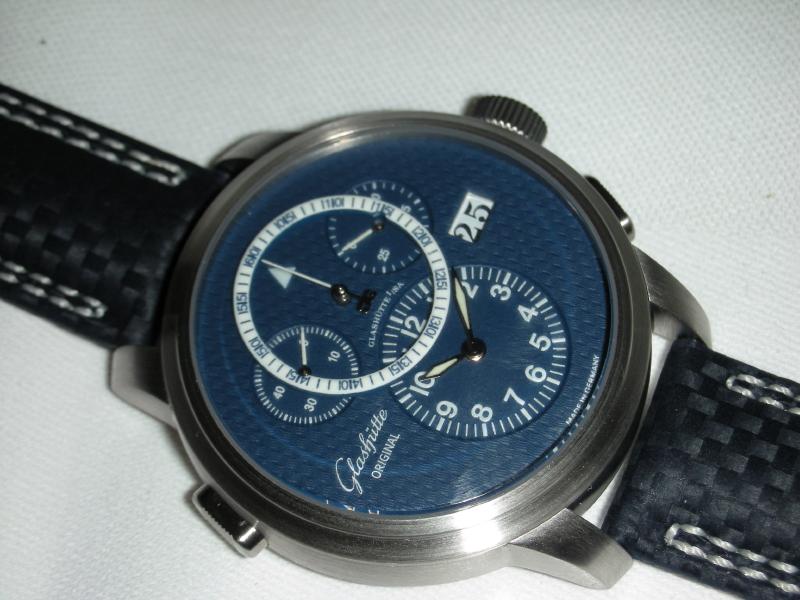 The Senator Karree Panoramadatum.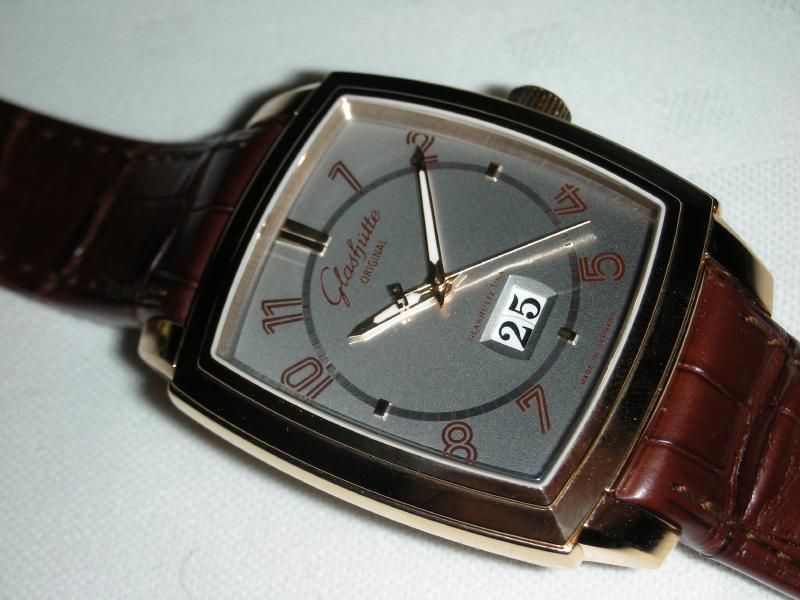 It feels great on the wrist too.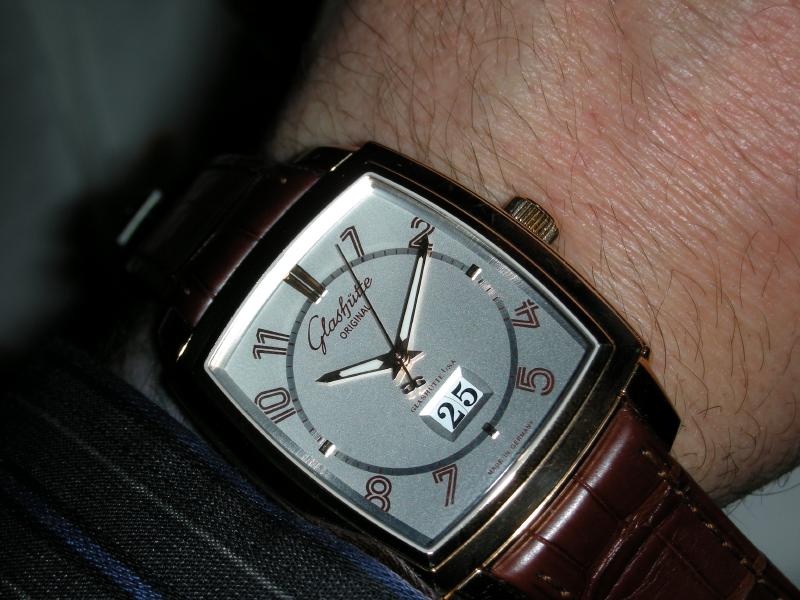 It was just like last year, a really nice day from GO.
I just want to thank Dr Frank Müller, René Marx and
The GO Team that make this happends. The Charon
team and the entertainers.
Then we have a few more hours before we have to went home
so we just take a walk in the great village we live in.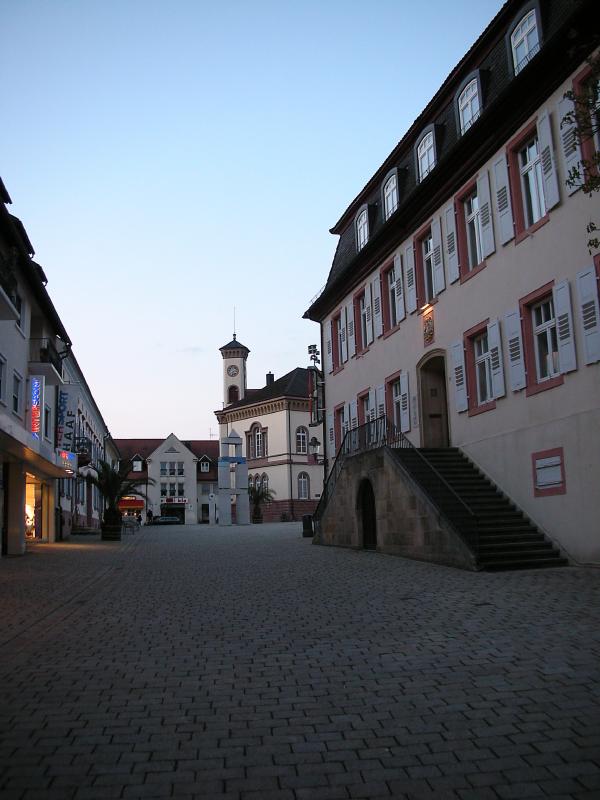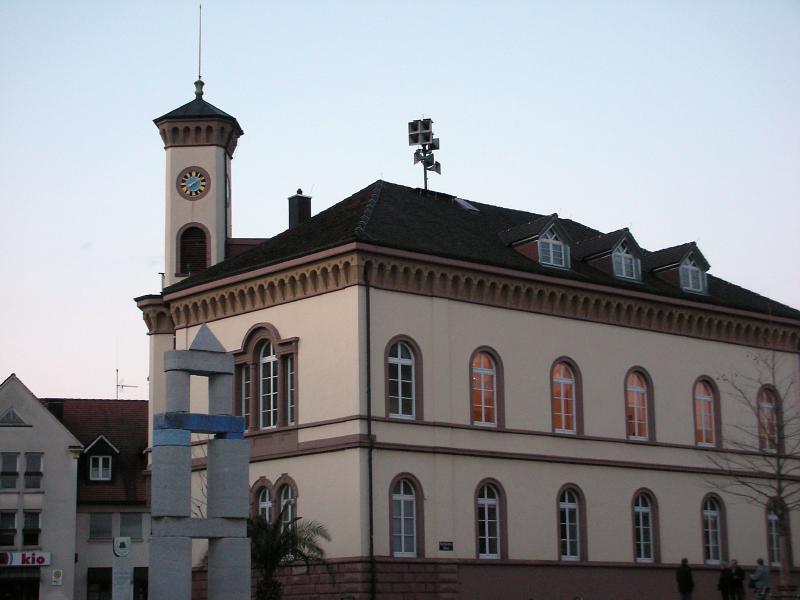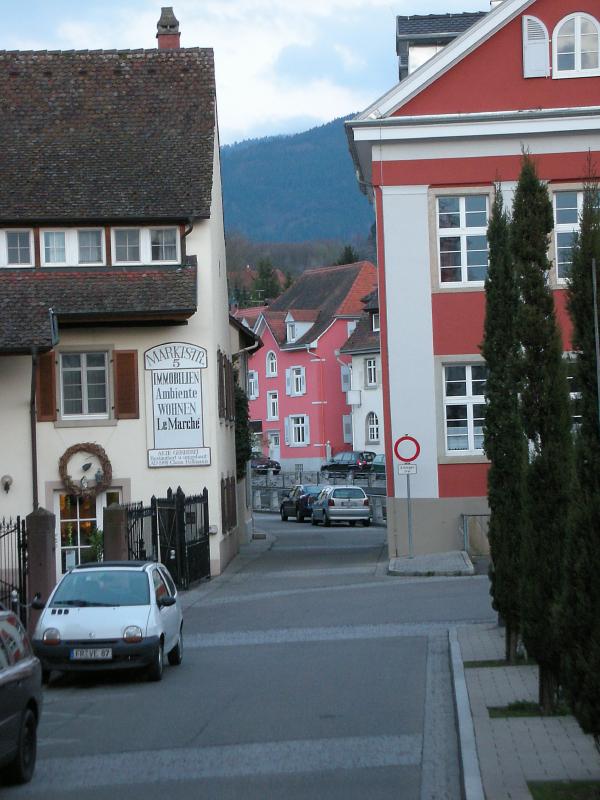 Then is start snowing at the way home.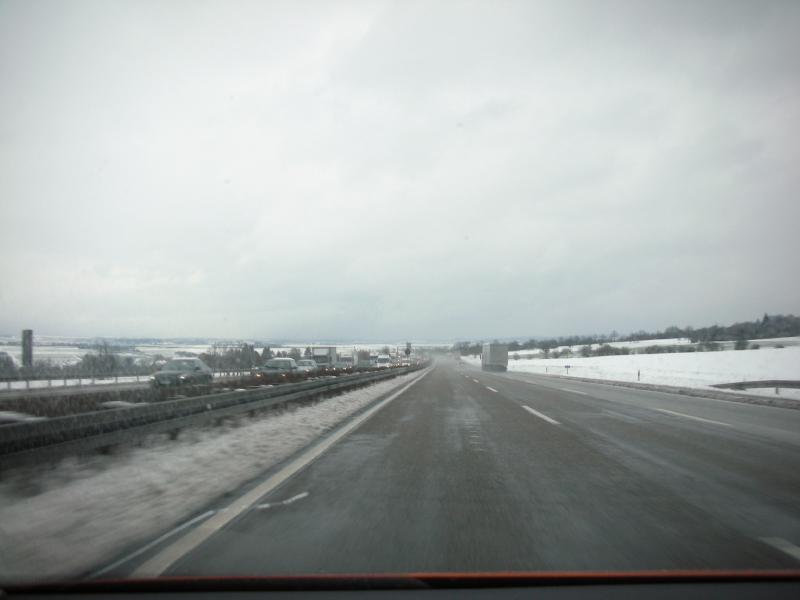 Now we are back home again and we have to wait for the next year show.
Jocke